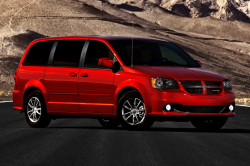 — Fiat Chrysler (FCA US) has issued four recalls involving about 1,280 vehicles, most to repair problems with front halfshafts that may fracture.
Jeep Cherokee
There are two recalls for the 2016 Jeep Cherokee, one that involves the right front halfshaft and one recall for the left front halfshaft.
Chrysler says there are 1,029 Jeeps that need the right halfshafts replaced because they may have experienced problems during manufacturing, leading to the possibility of the halfshafts fracturing.
A fractured halfshaft can then disconnect from the drive axle and cause all kinds of mayhem on the road, including by leaving parts of the SUV on the roads for other drivers to deal with.
The 2016 Jeep Cherokees with the bad right halfshafts were manufactured October 3, 2015, to March 22, 2016.
Another 52 Jeep Cherokees need the left front halfshafts replaced for the same problem. These Jeeps were built September 30, 2015, to October 2, 2015.
Chrysler doesn't know when the Jeep Cherokee recalls will begin, but dealers will replace the defective halfshafts.
Jeep Cherokee owners can contact the automaker at 800-853-1403. The left halfshaft recall number is S38 and the right halfshaft number is S39.
RAM 1500
More halfshaft problems plague 99 model year 2016 RAM 1500 trucks, defects created by the same manufacturing problems that caused the Jeep Cherokee recalls. However, FCA says both front halfshafts are at danger of breaking on the trucks.
Those trucks were built between February 19, 2016, to March 3, 2016, and all will need both front halfshafts replaced.
As with the Cherokee recalls, Chrysler doesn't know when the RAM 1500 halfshaft recall will begin. Truck owners with questions should call 800-853-1403 and ask about recall number S32.
Dodge Grand Caravan and Chrysler Town and Country
Chrysler is recalling 99 vans because the seats could loosen and detach from the seat frames.
Recalled are the 2016 Dodge Grand Caravan and Chrysler Town and Country that have nuts on the third-row seatbacks that weren't torqued properly during assembly. The loose bolts may not hold the seatbacks, even more so in a crash.
The nuts were not tightened properly when the vans were built between March 16, 2016, to March 17, 2016.
The Dodge Grand Caravan and Chrysler Town and Country recall should begin on June 30, 2016. Chrysler dealers will re-torque the third-row seatback nuts to keep the seats in place.
Owners with questions can contact Fiat Chrysler at 800-853-1403 and use recall number S37.
CarComplaints.com has complaints about the trucks, vans and SUVs named in the recalls: