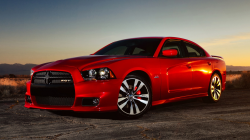 — Fiat Chrysler (FCA US) is recalling more than 1.1 million cars, vans and SUVs to fix two issues, one recall resulting from an investigation opened by the National Highway Traffic Safety Administration (NHTSA).
Dodge Charger, Chrysler 300, Jeep Grand Cherokee
More than 1.1 million vehicles are recalled after drivers kept making mistakes with shifting the vehicles into "Park," causing hundreds of rollaway incidents in addition to more than 100 crashes and at least 41 injuries.
Included in the recall are the 2012-2014 Dodge Charger and Chrysler 300 and model-year 2014-2015 Jeep Grand Cherokee SUVs.
Technically the gearshift levers work as designed, but the design has been confusing Chrysler owners who forget to put their vehicles in Park. The vehicles are equipped with Monostable electronic shift levers that return to the same position after each manipulation.
A driver should know the gear-selection based on multiple sets of indicator lights, unlike normal shifters that use a gear-selector position. Drivers also receive warning chimes and alert messages if their driver-side doors are opened while their engines are still running and "Park" is not engaged. However, hundreds of drivers have caused their vehicles to roll away because of not realizing the vehicles aren't in Park.
The recall is another example of a recall that isn't caused by a safety defect but instead is based on consumers not understanding how their own vehicles function.
NHTSA opened an investigation about the shifters in August 2015 after complaints about 2014-2015 Grand Cherokee SUVs rolling away. In February 2016, the government upgraded the investigation to include Chrysler 300 and Dodge Charger cars equipped with 3.6L engines because they use the same shifters as the Grand Cherokees.
By February, NHTSA knew of 306 incidents of Jeep Grand Cherokees rolling away after owners believed the SUVs were shifted into "Park." The 306 rollaway incidents caused in 117 crashes and 28 injuries. Those injuries included pelvic fractures, broken kneecaps, a ruptured bladder, busted ribs, sprained knees, trauma to the legs, lacerations to the face and other injuries.
Although warnings and alerts are provided, NHTSA says those warnings aren't good enough to protect a driver who intentionally leaves the engine running or a driver who does not recognize the engine keeps running after an attempted shut-down. Additionally, safety regulators say testing shows the Monostable shifters don't do a good job of providing gear selection information.
FCA says 811,586 of the recalled vehicles are in the U.S., with 52,144 vehicles in Canada, 16,805 in Mexico and 248,667 outside North America.
The automaker didn't mention when the recall will begin, but in an effort to wake up owners, Chrysler will add warnings with a transmission-shift strategy to automatically prevent a vehicle from moving, under certain circumstances, even if the driver fails to select Park.
Ram ProMaster City
FCA says about 27,000 model year 2015-2016 Ram ProMaster City vans are recalled in the U.S. and Canada to fix problems that can cause the transmissions to suddenly shift to neutral when the vans are stopped.
Chrysler says it discovered the problem while reviewing warranty data and found snow buildup or water accumulation near the front of the driver-side seat track can create corrosion to the transmission control module.
The automaker is warning owners to protect the driver-side footwells of their vans from excessive moisture, at least until recall repairs are complete.
Chrysler doesn't know when the recall will begin, but owners of the vehicles included in both recalls can contact FCA at 800-853-1403.