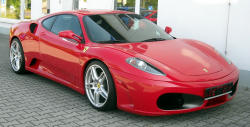 — A Ferrari F430 engine lawsuit alleges the cars, which can approach $200,000 each, have defects that cause engine damage and eventually complete engine failure. The F430 engine lawsuit says the 2004-2009 cars are marketed as "museum quality automobiles" and came with a price to reflect that claim.
Arizona resident Wade E. Morrison says he leased a 2006 Ferrari F430 2-door coupe "Berlinetta" in May 2012 for five years at a gross cost of $140,500, a down payment of $40,000 and monthly payments of $1,336.40.
The car had 5,213 miles on the odometer when Morrison leased the F430 and he claims all required maintenance was performed according to the manual provided by Ferrari.
According to the lawsuit, on March 17, 2016, Morrison paid $10,240 to a Ferrari dealership to replace the engine after the F430 suffered a "catastrophic engine failure caused by the defect." However, the actual invoice amount for the replacement was $30,132.38.
Ferrari said it was giving Morrison a break on the regular engine replacement price as a one-time goodwill gesture. Morrison says he appreciated that, but it still left him paying $10,240 for a defective engine.
According to the lawsuit, the F430 engine can fail because of defects and design flaws that cause pieces of the exhaust manifold and other parts which are downstream of the engine to be sucked back into the engine, resulting in damage to the engine's component parts and complete engine failure.
The lawsuit says the engine can fail at any time, including at highway speeds, resulting in a total loss of power to the car and causing a serious safety hazard.
Morrison says Ferrari purposefully concealed and continues to conceal its knowledge of the problems to keep from covering the entire cost of repairing the defects. This is allegedly done to shift the cost of engine repairs to F430 owners, especially when the engines fail after the warranties expire.
The lawsuit says although the defects exist, Ferrari has not recalled the cars and haven't offered customers a suitable repair for the engine problems. Furthermore, the plaintiff argues the automaker doesn't offer to replace the engines free of charge as required under the car's warranties and refuses to reimburse owners who have spent money related to the alleged defects.
The engine lawsuit says thousands of Ferrari F430 cars are in the U.S. because about 30 percent all cars sold by Ferrari are sold in the U.S. The plaintiff claims the cars were defective when they left the assembly line and the automaker knew the cars would be used without additional tests for defects.
The Ferrari F430 engine failure lawsuit was filed in the U.S. District Court, District of New Jersey - Wade E. Morrison v. Ferrari North America Inc., et al.
The plaintiff is represented by Boucher LLP, Kiesel Law LLP, and PinilisHalpern LLP.