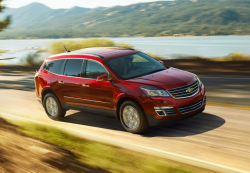 — General Motors told its dealerships to stop selling about 60,000 model year Buick Enclave, Chevrolet Traverse and GMC Acadia SUVs after discovering the window stickers (Monroney labels) have incorrect fuel efficiency numbers.
GM says the stickers show the SUVs get 1 to 2 miles per gallon more than they do, a problem that could get the automaker in trouble with the Environmental Protection Agency (EPA).
GM says it discovered the problem while working on Monroney labels for model year 2017 vehicles. In addition, it's estimated tens of thousands of SUVs are already in the hands of consumers, so GM will need to deal with each customer concerning complaints about incorrect fuel efficiency numbers.
The automaker hasn't said anything about a recall but at the least, new window labels will be mailed to customers.
GM blames the problem on a simple mistake that shows the SUVs get 1 to 2 miles per gallon higher than they do for city, highway and combined driving. The automaker says incorrect labels were used on front-wheel-drive and four-wheel-drive vehicles, most indicating a 2 mpg estimate too high for the SUVs.
The window stickers, technically called Monroney labels, give prospective buyers important details about vehicles, including estimated fuel economy ratings. At a minimum, GM and its dealers will be required to update all advertising materials, labels, websites, etc. to correct the false information.
The EPA hasn't released a statement whether action will be taken against GM for the mistakes, and the National Highway Traffic Safety Administration (NHTSA) hasn't released any associated recall details. However, class-action lawsuits are already heading for the courts as the Florida owner of a 2016 Chevrolet Traverse filed suit against GM.
Sean Tolmasoff alleges he and other GM owners now have SUVs with decreased values because of the window stickers. Tolmasoff claims he wouldn't have purchased the Traverse if he would have known about the 1 to 2 mpg discrepancy.
This isn't the first time an automaker has been in trouble from incorrect window stickers or wrong fuel economy numbers. GM had its own window sticker issues in June 2014 when a Cadillac owner sued the automaker for selling vehicles with window stickers that contained incorrect safety rating information.
The owner said the Monroney sticker listed 5-star safety ratings awarded by NHTSA when in fact the car hadn't yet received any safety ratings from the government.
Also in June 2014, Ford announced it was lowering the fuel economy ratings for about 200,000 model year 2013-2014 hybrid and plug-in hybrid vehicles as well as most model year 2014 Fiestas. As in the case of the GM SUVs, Ford had to update the Monroney stickers for the affected cars and the automaker also reimbursed owners up to $1,050 each as a "goodwill payment."
Prior to 2014, the EPA went after Hyundai and Kia over inflated mileage claims after government testing didn't match mileage claims submitted by the automakers.
As an example, the EPA found the Kia Soul was advertised as getting six miles per gallon more than it actually did, something that caused a $395 million settlement with the government.