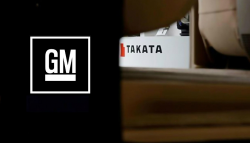 — General Motors doesn't want to recall about 980,000 trucks and SUVs equipped with passenger-side frontal Takata airbags, and the automaker has let the National Highway Traffic Safety Administration (NHTSA) know about it through a formal petition.
GM says a scheduled recall of the vehicles should be put on hold while testing continues on the safety of the metal inflators located inside the Takata airbags.
At the beginning of June, GM announced a preliminary recall of 1.9 million model year 2007-2011 trucks and SUVs to replace Takata airbag inflators, but the petition to NHTSA involves 980,000 model year 2007-2012 trucks and SUVs.
In the June announcement, GM named the affected trucks and SUVs as follows:
2007-2011 Chevrolet Silverado 1500
2007-2011 Chevrolet Avalanche
2007-2011 Chevrolet Tahoe
2007-2011 Chevrolet Suburban
2007-2011 GMC Sierra 1500
2007-2011 GMC Yukon
2007-2011 GMC Yukon XL
2007-2011 Cadillac Escalade
2007-2011 Cadillac Escalade EXT
2007-2011 Cadillac Escalade ESV
2009-2011 Chevrolet Silverado
2009-2011 GMC Sierra 2500 and 3500
GM says there shouldn't be a rush to a recall because the Takata airbags are unique to GM vehicles. The automaker says unlike passenger airbags in vehicles manufactured by other automakers, the metal inflators in the trucks and SUVs are packed in the instrument panel in a special way to keep moisture out of the inflators. The airbags allegedly also have more venting and special propellant wafers unique to GM.
The petition may fall on deaf ears because of how serious NHTSA is about getting all Takata airbags off the roads if those airbags don't contain a drying agent called a desiccant.
The airbag inflators contain ammonium nitrate, a chemical used to create a quick small explosion to deploy the airbags. But it's that chemical that has caused at least 10 deaths and 140 injuries in the U.S. when the airbags deploy with such force the metal inflators explode into shrapnel.
NHTSA says all Takata airbags without the drying agent must be recalled, something GM is scheduled to do with the trucks and SUVs on December 31, 2016. But General Motors wants an extension to December 31, 2017, to give an outside company enough time to study and test the airbags.
GM says it will take until August 2017 for the the research company, Orbital ATK, to complete its work. According to GM, the vehicles would then be recalled only if results of the research indicate a need for the inflators to be replaced.
Based on current lab tests and real-world airbag deployments, GM believes the airbags will be completely safe until December 31, 2019.
The automaker says there have been 44,000 deployments of these Takata airbags and none have ruptured. Additionally, 1,055 additional inflators have been tested in a lab and no ruptures were observed.
NHTSA says nearly 7 million GM vehicles are equipped with Takata airbags, but General Motors says to recall all those vehicles will cost a fortune and is unnecessary. The automaker estimates a cost of $870 million if all 6.8 million Takata airbag inflators are recalled to a low of $320 million if only 2.5 million inflators are replaced.
GM will learn its fate by November 16, 2016, the deadline NHTSA must meet to deny or approve the airbag petition.