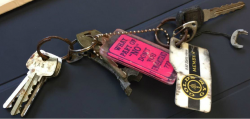 — General Motors has won a Texas trial after a jury found the ignition switch in a 2007 Saturn Sky had nothing to do with causing a 2011 crash that killed a truck driver.
The lawsuit was filed by the family of Zach Stevens, who was 19 when the 2007 Saturn Sky he was driving crossed the center line and hit a 1997 Nissan Frontier truck, killing the driver, 40-year-old Mariano Elias Landaverde.
Shortly after the crash, local reports said witnesses saw Stevens traveling at a high rate of speed and passing other vehicles on the shoulder of the road. Stevens hit a guardrail and slid sideways across the highway, slamming into Landaverde's truck and sending it into a ditch. Landaverde was pronounced dead at the scene.
Stevens was charged with manslaughter but the charges were eventually dropped after GM recalled the Saturn Sky to replace the ignition switch.
Stevens and his family filed suit claiming the crash was caused by the ignition switch that was recalled, but GM had asked the judge to dismiss the case after it came to light there were serious problems with the key and key ring allegedly used when the crash occurred.
GM says the crash and resulting death of the truck driver was caused by two things: speed and reckless driving by Stevens. The automaker argued the story about the key was contradictory and misleading because the key didn't even fit the Saturn Sky.
The original key the jury saw (pictured top right) was attached to a key ring with other keys and items that allegedly caused the ignition switch to move from the "run" to "off" position, shutting off the car and causing the crash. The items on the key ring are important because millions of GM cars have been recalled after it was confirmed a heavy key ring or key chain could cause the ignition switch to turn.
The ignition key the jurors originally saw is attached to three key rings and four other keys, along with assorted items. It may have looked good submitted as evidence to the jury, but the judge told the jury the story about the key was a lie because the key didn't fit the car.
It took the Houston jury of eight women and four men an hour to reach its verdict, giving GM its third ignition switch jury trial win this year.
"What happened was simple and tragic: this was a high-speed side-impact crash on a wet road caused by a reckless young man who tried to pass cars on the right shoulder and lost control. As a result, an innocent man was killed." - General Motors