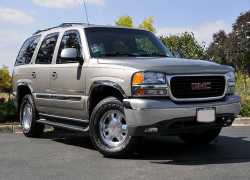 — A GMC Yukon ignition system lawsuit has been filed by the parents of a boy who was killed when the Yukon ran over him, allegedly caused by defects in the gear shifting and ignition/park interlock systems.
Rayven and Joseph Barfield filed the lawsuit after their son, 3-year-old Joseph Barfield Jr., was killed as the SUV rolled down a driveway. The lawsuit claims defects in the ignition/park interlock system and gear shifting system caused the Yukon to shift into gear without putting the SUV into PARK.
The plaintiffs say on September 13, 2015, Rayven Barfield parked the 2001 GMC Yukon in a driveway, turning the ignition switch off but leaving the keys in the ignition. Barfield says she later heard someone screaming as the SUV was rolling away and it was then she saw her child sitting in the driver's seat.
The plaintiff says she was running toward the Yukon and saw the driver's side door open as the SUV rolled down the driveway. Joseph Jr. fell or jumped out of the SUV, causing the front tire of the large SUV to run over the 3-year-old who was pronounced dead at a local hospital about an hour later.
The Yukon lawsuit alleges General Motors knows the transmission can be shifted out of PARK without the brake pedal pressed while the ignition switch is turned to the "accessory" position. The plaintiffs claim defects in the ignition switch components are what killed their son, defects GM allegedly knew about since the early 2000s.
According to the lawsuit, their son would still be alive if the automaker would have admitted the defects exist in the ignition/park interlock system.
In addition to claiming defects exist in the ignition systems, the plaintiffs say GM didn't properly test the Yukon SUVs, leaving a high probability the SUVs could roll away when customers believe the vehicles are safely in PARK.
The GMC Yukon ignition/park interlock system lawsuit was filed in the U.S. District Court for the Middle District of Georgia - Barfield et al., v. General Motors, LLC.
The plaintiffs are represented by Caroline G. McGlamry.