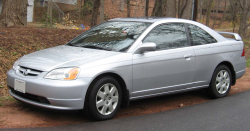 — Another Takata airbag-related death has been announced by the National Highway Traffic Safety Administration (NHTSA) after 50-year-old Delia Robles was killed while driving her 2001 Honda Civic.
The September 30 crash occurred when Robles, of Corona, California, hit a Chevy pickup head-on at an intersection, causing the airbag to explode when it deployed.
Takata airbags have killed at least 15 people worldwide and injured more than 140 due to metal inflators inside the airbags that rupture and turn into live grenades. Scientists determined the explosive chemical ammonium nitrate can become unstable due to heat, humidity and moisture, causing the metal inflators to turn into shrapnel.
NHTSA and Honda investigated the circumstances of the crash and concluded the driver-side airbag was first recalled in 2008 but had never been repaired.
Honda says its records show the registered owners of the Honda Civic were mailed recall notices at least 20 times since 2008.
Honda says the 2001 Civic involved in her death was one of 313,000 Honda and Acura vehicles included in an urgent message NHTSA released in June when the safety agency told owners to park the cars or get the airbags repaired.
At that time, safety regulators said there was no reason for owners to wait for repairs because Honda assured the government that plenty of replacement airbag inflators were available.
The concern was high because all the specific inflators used in the 313,000 vehicles had been recalled between 2008 and 2011 but had never been replaced. NHTSA also said that based on test results, those specific inflators were 50 percent more likely to rupture in a crash compared to other inflators.
NHTSA says about 70 million Takata airbag inflators will be recalled in the U.S. by 2019 and as of October 7, 2016, about 11.5 million airbags have been repaired. Those 70 million inflators are in vehicles from multiple manufacturers, with Honda leading the way with the most affected vehicles.
The automaker says about 53.5 percent of the driver-side airbags and 37 percent of passenger-side airbags have been fixed.
Honda recently said it was "disappointed and troubled" by Takata's lies after Honda uncovered data showing the airbag manufacturer falsified and manipulated inflator tests that were supplied to the automaker.
Honda found "several instances" where Takata manipulated test data for the sole purpose of making the airbag inflators appear safe when they weren't.