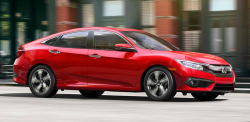 — Honda is recalling 34,000 model year 2016 Civic cars with 2-liter engines that can stall or completely fail. Not a good thing for a 2016 model recalled already in early 2016.
The Civics have problems with the piston pin snap rings, and in some situations the cars were manufactured with missing piston pin snap rings. Owners of 1.5-liter turbocharged cars are not affected and the recall of the 2-liter cars hasn't been officially announced.
Honda has told its dealers they will need a "borescope" to inspect the four cylinders to confirm correct piston pin snap ring placement. Dealerships have been told any Civics that have symptoms of problems may need many parts replaced, including the damaged pistons, piston pins, rings or other engine parts.
Dealers have also been warned not to sell any affected cars until the repairs are completed.
The mention of the borescope and engine parts is important because based on the notice sent to dealers, Honda still needs to gather more borescopes for dealers to use. Add to that the automaker says replacement engine parts aren't yet available.
Affected 2016 Honda Civic owners will likely be contacted in mid-March 2016 with details about the recall. With questions contact Honda at 800-999-1009.