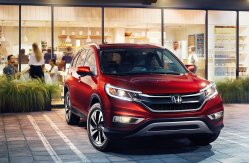 — A 2016 Honda CR-V gas smell lawsuit has been filed in Illinois that alleges CR-V SUVs have problems that cause dangerous fuel odors to enter the passenger areas of the SUVs.
Plaintiffs Bruce and Leann Beehler filed the proposed CR-V class-action lawsuit that claims the gas smells leave owners with the belief open containers of fuel are hidden inside the cabins. The gas smell also leaves occupants at risk for all kinds of health problems, from dizziness and upper respiratory problems to more serious issues such as lung cancer.
Owners of the 2016 Honda CR-V report the gas smell occurs at both idling speeds and highway speeds.
"Vehicle smells like gas inside the cabin at idle. Also fills garage with the odor when parked overnight." - 2016 Honda CR-V owner / Erie, Pennsylvania
"The cabin of my brand new vehicle fills with gas fumes randomly while the engine is running. The fumes fill the cabin while idling, starting, and driving down the road. The fumes are very strong and I do not feel safe driving this vehicle for any distance. The Honda dealership service department and the Honda tech center are aware of the problem but do not have a remedy." - 2016 Honda CR-V owner / Fox Point, Wisconsin
The lawsuit says the gas odor was apparent within days of buying the new CR-V and wouldn't go away no matter how fast the SUV was traveling. A trip to the dealership allegedly didn't help because the dealer didn't do anything to the SUV, although an employee allegedly admitted other CR-V owners had complained about the same problem.
More trips to different dealerships were made over the course of months with the same responses as the first dealer provided.
The plaintiffs say the gas odor problem should be covered under warranty, but Honda ignores federal warranty laws by refusing to fix the SUVs. The plaintiffs also say that considering Honda doesn't know how to fix the gas smell problem, an offer to buyback the SUV would be nice, but that hasn't happened.
The lawsuit alleges Honda is fully aware of the problem based on complaints and information gathered from dealers, but no recall has been ordered and no fix for the alleged problem has been offered.
The 2016 Honda CR-V gas smell lawsuit was filed in the U.S. District Court for the Northern District of Illinois Eastern Division - Beehler et al, v. American Honda Motor Co., Inc.
The plaintiffs are represented by the Voelker Litigation Group.
CarComplaints.com has owner-reported complaints about the 2016 Honda CR-V and other model years of Honda CR-V SUVs.