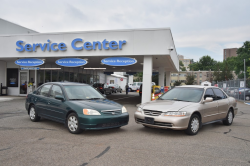 — Honda is sending people door-to-door to locate 300,000 older Honda and Acura vehicles at serious risk of exploding Takata airbags.
Honda calls the Takata airbag inflators in the older cars the "Alpha" inflators because they are found in the first vehicles to be equipped with Takata inflators containing the non-desiccated (no drying agent added) propellant, ammonium nitrate.
These older inflators are 50 percent more likely to explode than newer inflators and 80 percent of the airbag-related fatalities in Honda vehicles occurred from Alpha inflators.
Alpha inflators were removed from Honda and Acura vehicles in Florida and laboratory testing showed a very high rupture rate, leaving more than 300,000 of the following dangerous vehicles on the roads.
2001-2002 Honda Civic
2001-2002 Honda Accord
2002-2003 Acura TL
2002 Honda CR-V
2002 Honda Odyssey
2003 Acura CL
2003 Honda Pilot
The National Highway Traffic Safety Administration and Honda say the vehicles should be driven only to dealers for immediate repairs, a repair that will take about an hour and is free.
Although customers have complained about taking their cars to dealers only to be told those dealers didn't have the necessary parts, Honda says all Alpha inflators are available and ready to be installed.
Honda says it will come and pick up the vehicle to have it repaired, and loaner or rental vehicles are available until all repairs are completed.
The Alpha inflators have been under recall since 2008 and 2011 but owners never had the inflators replaced. Honda says it hasn't had an easy time tracking down current owners of the older vehicles because those owners may be the third or forth owners of the vehicles.
Without a relationship with Honda or its dealers, all Honda can do is use public records to find current owners, something that can be a daunting task.
The challenge of recalls with older vehicles is evident when looking at recall completion rates for vehicles from all manufacturers. Research shows recall completion rates can be as high as 80 percent for vehicles recalled in the first year of ownership, but those completion rates fall to 33 percent in the ninth or tenth year of ownership.
Honda's Alpha airbag vehicles have been owned for up to 15 years.
In an effort to reach Alpha owners, the automaker is using direct targeted communications and advertising, including sending people door-to-door to find hard-to-reach customers. The personalized touch has been successful, so Honda is adding more than 100 people to go door-to-door to find owners and try to convince them to get their cars repairs.
The automaker is also working with the Boy Scouts of America and students at California State University Long Beach to reach and convince owners to get the airbag inflators replaced.
Honda says it has mailed 6 million recall notifications in English and Spanish, 6 million postcards, made 7 million phone calls, sent 8 million emails and more than 300,000 text messages.
In addition, advertising campaigns costing millions of dollars have targeted Honda and Acura owners through newspapers and radio, and in some cases private investigators have been hired to track down owners.
It's estimated 10.7 million Acura and Honda vehicles have been affected by Takata airbags and to date about 8 million inflators have been replaced. The automaker has faced more death claims and lawsuits caused by exploding Takata airbags than any automaker, something that caused Honda to take extraordinary measures to repair the airbags.
Although Honda is taking extreme measures to get the cars fixed, the ultimate responsibility for the 2001-2003 Honda and Acura vehicles is in the hands of owners. To learn if your vehicle is affected, visit www.recalls.honda.com and www.recalls.acura.com or call 888-234-2138.
Because of the mess Honda has endured trying to locate customers, the automaker says the best solution for the future is to require any outstanding recall repairs to be made before a vehicle can be registered by a state.