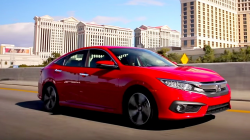 — Owners of 2016 Honda Civic cars will soon be heading to dealerships after Honda announced a recall of 350,000 Civics in the U.S. According to Honda, the Civics have problems with the electronic parking brakes, problems that were discovered from warranty claims filed by owners.
Civic owners report brake warning lights that illuminate because of software for the vehicle assist electronic control units.
The automaker says the software can keep the parking brake from working when it is applied immediately after turning off the ignition. However, Honda says the parking will continue to work if it's applied before turning off the ignition.
If the parking brake can be applied, the brake warning indicator in the instrument panel will let the driver know by blinking for 15 seconds.
Although there is a possibility the parking brake problems could lead to Civics rolling away, Honda says it is unaware of any accidents or injuries related to the defect.
Honda expects to mail recall notices to Civic owners in November 2016 so dealers can update the software.
Civic owners may contact Honda customer service at 888-234-2138 and ask about recall number KC6.
If you have a complaint about your Honda, add your complaint here, about any vehicle.
Or, read complaints about the 2016 Honda Civic or other model years of Honda Civic cars.