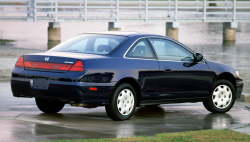 — Honda has confirmed the death of a 13-year-old boy in a 2001 Honda Accord was caused by an exploding Takata airbag. Although the National Highway Traffic Safety Administration had released information about the death, Honda at the time said it still had to finish its investigation into the crash.
Police reports say the boy, from Grove City, Pennsylvania, apparently took the keys to the Honda Accord on July 22, 2015, lost control and traveled off Route 58 in Mercer County.
The 4:46 a.m. crash caused the front airbag to explode after the car hit a fallen tree. The teen was flown to St. Elizabeth's Hospital in Youngstown, Ohio, where he later died of his injuries.
Authorities said the Honda Accord, owned by a relative of the teen, went down a four-foot embankment and traveled about 315 feet, finally hitting the tree. Police report the teen driver was not wearing a seat belt.
Authorities haven't said why the teen was driving or what caused the Accord to travel off the road. NHTSA learned of the accident after the boy's family contacted the government.
On December 23, 2015, Honda released a statement acknowledging the crash, but an inspection of the car still wasn't complete. With the official announcement that the airbag caused the death, Honda will have more legal issues to tackle as all eight confirmed Takata airbag deaths in the U.S. have been in Honda vehicles.
The automaker says the 2001 Honda Accord had been recalled under a previous owner in February 2010. That recall was ordered to replace the Takata driver's side front airbag inflator.
Honda says it made numerous attempts to contact the owner between 2010 and 2012, but the car was never repaired. Honda says it mailed an additional recall notice to the current owner on July 21, 2015, one day before the fatal crash.