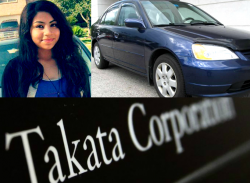 — Huma Hanif, 17, is the tenth Takata airbag-related death in the U.S after Honda, Takata and the National Highway Traffic Safety Administration confirmed a 2002 Honda Civic airbag inflator exploded.
Hanif was driving the 2002 Honda Civic in Fort Bend County, Texas, when her car rear-ended another vehicle and triggered the front airbag to deploy. The March 31, 2016, accident was described by local investigators as minor, but Hanif died at the scene after a piece of the metal airbag inflator hit her artery.
The automaker says since 2011, six recall notices were mailed to the registered Civic owners, including the current owner. However, the recall repair was never completed even though replacement parts for the car were available.
With at least 11 deaths and 140 injuries worldwide, 14 automakers have recalled about 24 million vehicles in the U.S. to replace 28 million dangerous airbag inflators.
Automakers, including Honda, have experienced trouble keeping up with demand and often don't have enough replacement inflators. This has caused the companies to use other airbag manufacturers to acquire replacement inflators, but that has been time consuming and in some cases, the replacement inflators have been defective.
That problem was recently seen in the case of BMW that missed a government deadline after it was determined replacement inflators were defective, even though they were supplied by a company other than Takata.
The Honda Civic Huma Hanif was driving had spent it's life registered in a region known for high absolute humidity, something scientists say is part of the cause of the exploding airbag inflators. An aerospace manufacturer and defense company hired by 10 automakers determined a combination of factors cause the airbags to explode.
Those factors include age, heat, humidity, the design of the inflators and the fact the explosive chemical ammonium nitrate doesn't include a substance to absorb moisture, something that can cause the ammonium nitrate to become unstable and dangerous.
Honda continues to push owners to get their recalled vehicles repaired, something the automaker has urged through massive and expensive advertising campaigns. Some of the injuries and deaths in Honda vehicles occurred in vehicles that could have easily been repaired long before the airbags exploded.
A company can do only so much to convince owners to take action, especially if replacement parts are readily available. The rest comes down to personal responsibility of the registered owner.
Takata says the airbag disaster could cost the company up to $24 billion by the time the chaos is over, which is four times Takata's yearly earnings.