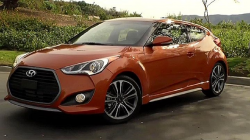 — A Hyundai dual-clutch transmission (DCT) lawsuit alleges the 7-speed automatic transmissions have defects in the transmission control modules that cause vehicles to stop moving.
The vehicles named in the DCT lawsuit include the 2017 Hyundai Elantra Eco, 2017 Hyundai Sonata Eco, 2016-2017 Hyundai Tucson and 2016 Hyundai Veloster Turbo.
Lead plaintiffs in the proposed class-action lawsuit, Shawna and Nicholas Wylie, say they bought their Hyundai Veloster in October 2015 and within nine months the car had to visit a dealership. The plaintiffs claim the Veloster was traveling on a highway when the RPM level skyrocketed but left the plaintiffs without the ability to accelerate.
The 7-speed DCT lawsuit alleges owners experience shifting problems, hesitating acceleration, loss of power and finally the vehicles stall.
The safety hazard is clear as the plaintiffs say any vehicle that has acceleration problems or stalls without warning is a danger to everyone on the road.
The plaintiffs claim Hyundai has known about the transmission and control module problems since at least 2015, and certainly knew in August 2016 when Hyundai took notice of dual-clutch transmission problems in model year 2016 Tucson SUVs. The automaker sent technical service bulletins to dealers to fix problems with 7-speed transmissions, but no recall was ordered.
Once the National Highway Traffic Safety Administration got involved, Hyundai ordered a Tucson recall in September to fix SUVs that stopped moving when the gas pedals were repeatedly pressed and released. Hyundai said the 7-speed transmissions have control modules that misbehave due to high temperatures in certain driving conditions.
The dual-clutch transmission control module is used to collect sensor information from the vehicle to choose the best gear for saving gas and optimal shifting.
Dealers were told to update the software for the transmission control modules in the 2016 Tucson SUVs, but no action was taken on any other models.
Hyundai owners say the transmission problems occur without warning and those owners would have never purchased the vehicles if they would have known about the alleged transmission problems.
The lawsuit claims the cars and SUVs perform exactly opposite of what is advertised by Hyundai, especially when the automaker markets the dual-clutch transmissions as having better acceleration and gear shifting compared to other transmissions.
The Hyundai dual-clutch transmission (DCT) lawsuit was filed in the U.S. District Court for the Central District of California - Nicholas Wylie et al, v. Hyundai Motor America.
The plaintiffs are represented by Capstone Law APC, and Maddox Isaacson Cisneros LLP.
CarComplaints.com has complaints about the Hyundai Elantra, Hyundai Sonata, Hyundai Tucson and Hyundai Veloster.