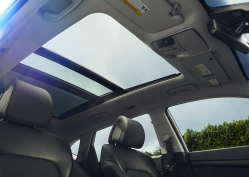 — A Hyundai panoramic sunroof lawsuit still has light after a federal judge dismissed part of the lawsuit that alleges the panoramic sunroofs shatter without warning.
The Hyundai lawsuit was filed by lead plaintiff Billy Glenn, owner of a 2014 Hyundai Santa Fe Sport that Glenn claims experienced a shattering panoramic sunroof only to have the replacement sunroof also shatter.
The plaintiff says the Santa Fe isn't the only vehicle at risk as the lawsuit names all 2011-2016 Hyundai Sonata, Tucson and Veloster vehicles in addition to 2013-2016 Elantra GT, Santa Fe and Santa Fe Sport vehicles.
Mr. Glenn claims the panoramic sunroofs have thin ceramic tinted glass which causes the glass to spontaneously shatter without anything hitting the glass. The plaintiff also alleges Hyundai has known about exploding sunroofs for years based on consumer complaints and recalls.
For example, in October 2012, the National Highway Traffic Safety Administration opened an investigation into shattering sunroofs in the Hyundai Veloster and in December Hyundai recalled the Velosters to replace the panoramic sunroofs.
At the time, the automaker blamed the problem on glass that may have been damaged during mechanical installation at the factory. Hyundai then expanded the recall in February 2013 to include additional Velosters.
Hyundai filed to dismiss the shattering sunroof lawsuit and the judge agreed to dismiss almost all the lawsuit except claims based on fraud.
Charges of violations of unjust enrichment were dismissed after the judge questioned which state law applied and violations of consumer protection laws were dismissed after the judge ruled consumer protection claims must come from the states where the vehicles were purchased.
The judge said the plaintiffs can move forward based on claims of fraud and can amend the complaint if they want the judge to reconsider violations of consumer protection laws and unjust enrichment.
The Hyundai panoramic sunroof lawsuit was filed in the U.S. District Court for the Central District of California - Billy Glenn v. Hyundai Motor America et al.
The plaintiffs are represented by the Gibbs Law Group LLP, and Tousley Brain Stephens PLLC.
CarComplaints.com has owner-reported complaints about the Hyundai vehicles named in the panoramic sunroof lawsuit: