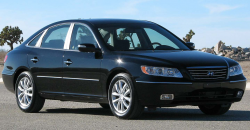 — Hyundai is recalling 9,700 Azera cars to fix problems with the front power driver seats. Hyundai says the 2007-2008 Azera cars have front driver-side power-adjustable seats that may start moving around while trying to drive.
In April of 2016, Hyundai began to investigate complaints about Azera power driver seats moving without the drivers touching the controls. Hyundai took a look at warranty data and discovered an increase in claims for Azera cars built between March and August 2007.
A review of affected parts indicated the microswitch inside the power seat switch can be affected by moisture from the environment and cause a short-circuit. The switch is supposed to be sealed to prevent that from happening, but Hyundai says once moisture enters the switch, the contacts within the microswitch can short out.
Although a seat moving around accidentally could cause a driver to lose control of the car, Hyundai says no Azera accidents or injuries have been reported related to the problem.
The 2007-2008 Azera cars were built March 7, 2007, through August 14, 2007.
The Hyundai Azera recall should begin October 28, 2016, when dealers will replace the power-adjustable seat switches.
If you own a 2007-2008 Hyundai Azera and have questions, call 855-371-9460 and use Hyundai's recall number 150.
CarComplaints.com has complaints about the 2007 Hyundai Azera, 2008 Hyundai Azera and other model years of Hyundai Azera cars.