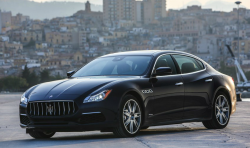 — Maserati is recalling more than 7,400 cars and SUVs to fix rear-view cameras that fail. Recalled are 2017 Maserati Quattroporte, Ghibli and Levante vehicles with software problems inside the entertainment telematics modules.
Maserati opened an investigation after receiving a report about an entertainment telematics module that switched off and caused the rear-view camera to fail.
The module supplier diagnosed the problem as software that misinterprets a temperature below 32 degrees as an overheating condition. Because the system senses overheating, the system goes into a mode to protect the components by turning off the rear-view camera display.
Drivers who are used to depending on the backup camera won't have a choice but to take extra precautions when backing up.
The recalled 2017 Maserati Quattroporte, Ghibli and Levante cars and SUVs were built July 1, 2016, to November 14, 2016.
Maserati owners will be contacted in December 2016 about letting Maserati dealers update the entertainment telematics module software.
Owners may contact Maserati at 201-510-2369 and ask for information about recall number 327.