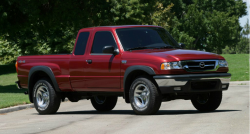 — Mazda is as tired of Takata airbags as every other automaker, but the fatigue continues as Mazda recalls 19,700 B-series trucks.
The automaker says 2004-2006 B-series trucks in the U.S., Puerto Rico and Saipan need new driver's side frontal airbag inflators. Those inflators are filled with a chemical called ammonium nitrate that can be affected by heat and humidity.
Blamed on at least 10 deaths and over 100 injuries, the metal inflators can explode when the airbags deploy, sending shards of sharp metal into truck occupants.
The trucks were built April 17, 2003, to May 2, 2006.
To date, Mazda has recalled 442,266 driver's frontal air bag inflators and 416,475 passenger-side frontal airbag inflators. The recalled vehicles so far include the following:
2003-2008 Mazda Mazda6
2004-2006 Mazda B-Series
2006-2007 Mazda Mazdaspeed6
2004-2008 Mazda RX-8
2004 Mazda MPV
The B-series truck recall should begin March 25, 2016, when dealers will replace the driver's side frontal airbag inflators.
Owners may contact Mazda at 800-222-5500 and use recall number 9116A.
Have a complaint about your Mazda vehicle or any vehicle? Tell the world here.