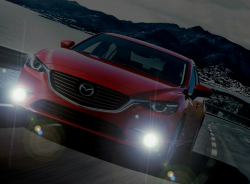 — Mazda is recalling 180 Mazda6 cars equipped with optional fog lights to fix turn signals that may not automatically turn off when the steering wheel is turned.
Mazda says the 2017 Mazda6 cars have a bad switch that causes the turn signal operation to fail, meaning the cars don't comply with federal safety standards.
The automaker says the 2017 Mazda Mazda6 cars were built August 12, 2016, to September 28, 2016, and again, all the cars are equipped with fog lights.
The recall will begin sometime in November 2016 when owners will receive notices to get their cars to dealers. Those dealers will need to replace the bad switches, but Mazda didn't say how long the job will take.
If you own one of the recalled Mazda6 cars and have questions about the recall, please call 800-222-5500 and ask about recall number 0316J.
CarComplaints.com has complaints about the Mazda Mazda6 and many other Mazda vehicles.