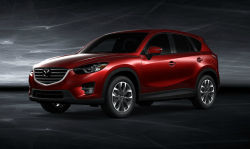 — Mazda is recalling over 404,000 CX-5 SUVs that could leak gas and catch on fire in a rear impact. Mazda says the 2014-2016 CX-5 has a fuel filler pipe that may rupture if the SUV is hit from behind, possibly causing a gas leak and fire.
About 264,463 SUVs are affected in the U.S. and the remaining vehicles are in Canada.
Mazda says it's unaware of any CX-5 accidents or injuries related to the defect, but the automaker says the problem is a serious concern. Therefore, until repairs are made to the fuel system, dealers will offer a free loaner, demo or rental vehicle to CX-5 owners.
The National Highway Traffic Safety Administration hasn't released additional details and Mazda hasn't said how the SUVs will be repaired.
Mazda dealers will alter the attachment between the fuel filler pipe and the left rear side of the bracket of the fuel filler pipe when the recall begins March 1, 2016. CX-5 owners may contact Mazda at 800-222-5500 and use recall number 9216B.
Read complaints about the 2014 Mazda CX-5, 2015 Mazda CX-5, 2016 Mazda CX-5 and other Mazda vehicles.