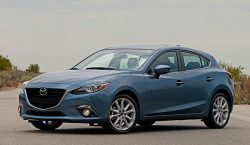 — Mazda is recalling more than 20,000 Mazda3 cars in two recalls, both to repair problems associated with gas tanks and a high risk of fires.
2014-2016 Mazda Mazda3 Recall
The automaker says nearly 17,500 model year 2014-2016 Mazda3 cars may have gas tanks that were damaged during manufacturing. Mazda says the welded attachment of the "inlet check valve" may fail because of vibrations and allow fuel to leak on hot surfaces, possibly causing car fires.
The recalled 2014-2016 Mazda3 cars were built January 4, 2014, to September 18, 2015.
Mazda dealers will check the lot number on each fuel tank and if it's confirmed the tank is on the list, dealers will inspect the weld and replace the gas tank if needed.
The recall should begin on November 1, 2016, but owners of the Mazda3 may contact the automaker at 800-222-5500 and ask about recall number 0116I.
2016 Mazda Mazda3 Recall
The second recall involves more than 3,800 model year 2016 Mazda Mazda3 cars that may have deformed gas tanks that can leak fuel from the recirculation pipe welds.
The automaker received the first report of a problem in May 2016 and opened an internal investigation by collecting the affected part and trying to confirm a failure of the recirculation pipe welded connection. However, it took until September 2016 to finally determine the welds could fail due to deformation of the gas tanks.
Mazda blames the defect on "inadequate facility control" during manufacturing that caused the fuel tanks to deform.
The recalled 2016 Mazda6 cars were produced between September 24, 2015, to October 16, 2015.
The recall is scheduled to begin on November 1, 2016. As in the previous recall, Mazda dealers will inspect the fuel tank lot numbers and for any affected tanks, they will be replaced based on what dealers find with the recirculation pipe welds.
Mazda3 owners who have questions should call Mazda customer service at 800-222-5500 and use recall number 0216I.
CarComplaints.com has complaints about the 2014 Mazda Mazda3, 2015 Mazda Mazda3, 2016 Mazda Mazda3 and other model years of Mazda Mazda3 cars.