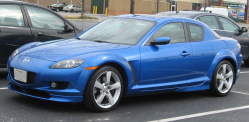 — Mazda is recalling nearly 69,500 model year 2004-2008 RX-8 cars at risk of fires due to fuel leaks, but Mazda has no idea when the recall will begin because parts aren't available.
Mazda says the problem is caused by insufficient heat resistance on top of the fuel tank that can cause the fuel pump rings to deteriorate from the heat of the engine and exhaust pipe. Without repairs, the fuel pump seals can crack and leak gasoline onto hot surfaces, leading to the very real potential of a car fire.
Mazda says it received a report in September 2013 indicating a possible problem with the seals, so the automaker requested the affected parts and opened an investigation.
In January 2014, Mazda engineers determined "improper maintenance" caused the failures and the investigation was closed. However, by January 2015, Mazda received six additional cracked fuel pump rings, so Mazda opened another internal investigation and engineers determined the cracks were caused by deterioration of the plastic materials.
Mazda also found the bad parts were of a certain color and the good parts a different color. The difference in colors was caused by exposure to heat, so engineers added thermal insulation that reduced the heat exposure. The added insulation was tested under severe conditions and left engineers with the impression the insulation was enough to fix the problem.
The recalled 2004-2008 Mazda RX-8 cars were built from April 10, 2003, through February 18, 2008.
Mazda RX-8 owners will be contacted to let them know a recall has been ordered but that parts aren't yet available. RX-8 owners will then receive a second recall notice once parts are available, and Mazda dealers will replace the fuel pump ring sets and add thermal insulation padding to the fuel tanks.
The automaker doesn't know when the recall will begin, but concerned RX-8 owners who have questions may call Mazda customer service at 800-222-5500 and give them recall number 0516J.