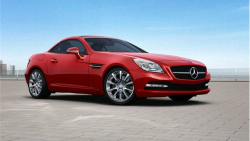 — Mercedes-Benz is recalling 223 model year 2016 SLK300 cars to keep them from rolling away when parked. Mercedes says the 2016 SLK300 is equipped with a nine-speed automatic transmission that has a backup power supply for the ignition switch.
The automaker says the power supply may not have been properly connected to the ignition switch, so a loss of battery power will cause a failure of the transmission to shift to "park." Without backup power in place, a driver also won't be able to apply the electric parking brake, so the only way to keep the car from moving is to apply the brake pedal.
Sounds fine until you have to exit the car and then watch it roll away.
Mercedes-Benz says the recalled 2016 SLK300 cars were manufactured June 2, 2015, to July 14, 2015.
The recall will begin in May 2016. Mercedes-Benz dealers will correct the ignition switch wiring and update the software.
If you own one of the 2016 Mercedes-Benz SLK300 cars and have questions, contact the automaker at 800-367-6372.