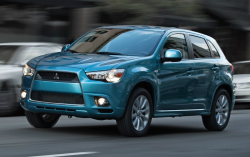 — More than 45,700 Mitsubishi Outlander Sport SUVs are recalled after the automaker discovered transmission fluid leaks were causing the SUVs to stop moving.
The 2015 Outlander Sports are equipped with 2-liter engines and continuously variable transmissions with fluid hoses that may not have been secured properly.
In December 2015, Mitsubishi received a warranty claim about an Outlander Sport that had "quit moving." A local dealer inspected the SUV and realized there was no transmission fluid and a test showed three diagnostic trouble codes related to fluid pressure.
The dealer found one of the transmission hoses disconnected from the transmission fitting and both hose clamps were still in the open position. The SUV had only 66 miles on it when the problem was discovered, then a second warranty claim was received a few months later. An investigation found an open hose clamp caused the problem, then more warranty claims came in, all showing open hose clamps.
If a transmission fluid hose disconnects from the transmission fitting while the SUV is moving, the transmission won't keep the vehicle moving once the fluid has leaked out. There is also the danger of leaking fluid landing on a hot surface, although Mitsubishi says the transmission hoses are not located near the exhaust manifold or the battery.
The recalled Outlander Sports were built June 25, 2014, through November 25, 2015.
The automaker doesn't know when the Outlander Sport recall will begin, but once it does dealers will inspect the hose clamps and correct any mistakes.
Owners with questions may contact Mitsubishi at 888-648-7820 and use recall number SR-16-005.