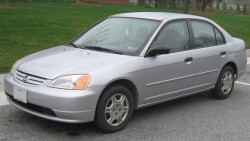 — The case of Patricia Mincey's Takata airbag-related death is over as lawyers announced Takata settled the lawsuit filed after Mincey's 2014 crash.
According to the lawsuit, Mincey was driving her 2001 Honda Civic when she went through a red light and crashed into another vehicle. The Takata airbag didn't initially deploy but then deployed with overwhelming force, breaking Mincey's back and leaving her a quadriplegic.
Honda recalled the Takata airbag in her Civic four days after the crash.
Mincey suffered nearly two years before she died April 11 in a Jacksonville, Florida, rehabilitation facility at age 77. She spent those two years unable to move, talk or even breathe on her own.
About 70 million vehicles have been recalled to replace the Takata airbags at risk of exploding in a crash. The airbags contain metal inflators used to deploy the airbags in a crash, but the explosive chemical used for the deployments can become unstable due to heat, humidity, moisture and age.
The chemical, ammonium nitrate, is blamed in the deaths of at least 10 people in the U.S., although Mincey's death is not counted among the fatalities.
Other Takata airbag injuries and deaths were caused by the metal inflators inside the airbags exploding and sending shrapnel into occupants. In the Mincey case, the lawsuit alleges the inflator didn't explode, but the airbag deployed with excessive force and caused catastrophic injuries resulting in quadriplegia, pain, suffering and eventual death.
The lawsuit accuses Takata of concealing the defective airbags since 2001, and accuses Honda of knowing about airbag problems as early as 2004.
Takata agreed to settle the lawsuit the same day lawyers planned on asking the judge to force Takata CEO Shigehisa Takada to testify in the case. The request was dropped after Takata agreed to settle, but details of the settlement have not been made public.
Honda has been hit hardest as Takata's largest vehicle airbag customer, causing the automaker to leave Takata behind in 2015 while Honda continues to recall its vehicles.