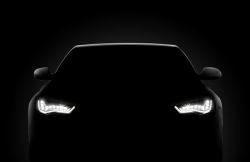 — Paying more for a car doesn't mean the headlights will be any better than on a cheaper model, that's according to research conducted by the Insurance Institute for Highway Safety (IIHS), an organization funded by insurance companies.
In its first-ever headlight ratings, IIHS says only one 2016 car earned a good rating out of the 31 vehicles that were tested. That car, the Toyota Prius v, earned a good rating in categories that includes good, acceptable, marginal and poor.
IIHS says it started testing headlights due to advances in headlight technology, including high-intensity discharge (HID) or LED lights that have replaced halogen lamps. In addition, curve-adaptive headlights which swivel according to steering input are starting to see more widespread use.
There are government standards for headlights, but the problem has always been how the tests allow for a huge variation in the amount of illumination that headlights provide in actual on-road driving.
Almost half of all traffic deaths occur either in the dark or in dawn or dusk conditions, so choosing a car with good headlights will help reduce vehicle fatalities.
IIHS tested the headlights after dark by using a special device that measures the light from both low beams and high beams as the vehicle is driven on five different approaches: traveling straight, a sharp left curve, a sharp right curve, a gradual left curve and a gradual right curve.
Researchers also measured glare from low beams to make sure it isn't excessive, and any vehicle with excessive glare on any of the approaches couldn't earn a rating above marginal.
Furthermore, the headlights were tested as received from dealers and no adjustments to the headlights were made.
Researchers focused on results for low beams more heavily than high beams because they are used more often. Additionally, the readings on the straightaway are weighted more heavily than those on the curves because more crashes occur on straight sections of road.
IIHS says vehicles can be equipped with different headlights, so there are a total of 82 headlight ratings for 2016 models even though there are only 31 vehicles.
The best available headlights on 11 cars earn an acceptable rating, while nine only reach a marginal rating. It was determined 10 of the vehicles can't be purchased with anything other than poor-rated headlights.
Midsize Cars With the Best Highlights
The Toyota Prius v earns a good rating, but only when equipped with LED lights and high-beam assist. To get those headlights, consumers must purchase the advanced technology package. When equipped with regular halogen lights and without high-beam assist, the Prius v earns a poor rating.
Among the 44 headlight systems earning a poor rating, the halogen lights on the BMW 3 series are the worst. A driver with those headlights would have to be going 35 mph or slower to stop in time for an obstacle. A better choice for the same car is an LED curve-adaptive system with high-beam assist, a combination that rates marginal.
The Cadillac ATS, Kia Optima and Mercedes-Benz C-Class all earn poor ratings even when equipped with adaptive low and high beams. The Kia Optima also had serious glare problems for oncoming vehicles.
IIHS says one of the best headlight systems evaluated doesn't even use any of the new technology. The basic halogen lights on the 2016 Honda Accord 4-door earn an acceptable rating, while an LED system with high-beam assist available on the Accord earns only a marginal rating.
2016 Midsize Car Headlight Ratings
Good
Acceptable
Audi A3
Honda Accord 4-door
Infiniti Q50
Lexus ES
Lexus IS
Mazda 6
Nissan Maxima
Subaru Outback (built after Nov. 2015)
Volkswagen CC
Volkswagen Jetta
Volvo S60
Marginal
Acura TLX
Audi A4
BMW 2 series
BMW 3 series
Chrysler 200
Ford Fusion
Poor
Buick Verano
Cadillac ATS
Chevrolet Malibu
Chevrolet Malibu Limited (fleet model)
Hyundai Sonata
Kia Optima
Mercedes-Benz C-Class
Mercedes-Benz CLA
Nissan Altima
Volkswagen Passat