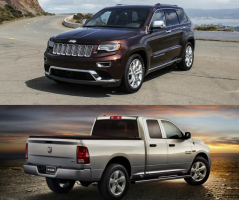 — A Ram 1500 and Jeep Grand Cherokee EcoDiesel lawsuit has been filed in California alleging the EcoDiesel trucks and SUVs contain concealed emissions "defeat devices" to hide nitrogen oxide emissions levels 10 times above legal limits.
The proposed class-action lawsuit targets about 150,000 model year 2014-2016 Ram 1500 EcoDiesel and 2014-2016 Jeep Grand Cherokee EcoDiesel vehicles that allegedly cost $4,700 more than normal because of "clean" emissions technology.
In addition to charges against Fiat Chrysler (FCA US), the EcoDiesel lawsuit claims parts manufacturer Bosch is in cahoots with Chrysler, in violation of the RICO (Racketeer Influenced and Corrupt Organizations) Act.
Plaintiff Jose Chavez says he purchased a new 2016 Ram 1500 EcoDiesel from an authorized FCA dealer in Richmond, California, a vehicle he still owns. Chavez says he didn't know the truck was equipped with an emissions defeat device that would cost him out-of-pocket money, future attempted repairs and a diminished resale value.
Believing the EcoDiesel was a "clean diesel" truck, the plaintiff claims Chrysler should have admitted the emissions controls intentionally manipulate nitrogen oxide emissions.
According to the emissions lawsuit, automakers have struggled to manufacture diesel engines that have good fuel economy and high performance while having cleaner emissions. Removing nitrogen oxide emissions from untreated diesel exhaust isn't easy, something that has caused the use of catalysts. However, FCA's answer was to create the EcoDiesel engine.
EcoDiesel technology treats emissions after the byproducts of the diesel fuel leave the engine by using a diesel oxidation catalyst, diesel particulate filter and selective catalyst reduction. According to the lawsuit, when the EcoDiesel technology is in operation the fuel economy is compromised.
Based on court documents, the only way the Ram 1500 EcoDiesel trucks can achieve advertised fuel economy, towing power and performance is to intentionally turn off emissions treatment when the truck is on the road.
The trucks and SUVs allegedly emit far more pollutants than gasoline-fueled vehicles and may be considered "clean diesels" in very limited circumstances.
The EcoDiesel lawsuit says that from at least 2005 to 2015, Bosch and unnamed Bosch employees knew they were creating and marketing illegal defeat devices specifically designed to evade U.S. emissions requirements.
The plaintiff says in addition to the Ram 1500 and Grand Cherokee EcoDiesel vehicles, Bosch created the same type of device for Volkswagen that caused 11 million VW vehicles worldwide to emit illegal nitrogen oxide emissions.
Just as Volkswagen did for years, FCA allegedly used marketing to sell Ram 1500 and Jeep Grand Cherokee EcoDiesel vehicles allegedly good for the environment. The plaintiff says the extra cost for this "clean diesel" technology adds about $4,500 to the typical cost of a 2016 Jeep Grand Cherokee, a lot of money to pay for an SUV that Chrysler advertises as having no nitrogen oxide emissions that exit the tailpipe.
However, although the nitrogen oxide emissions standard is 50 mg/mile for city driving, the Ram 1500 allegedly emits an average of 159 mg/mile and a maximum of 1,283 on flat roads. In addition, the Ram 1500 emits 222 mg/mile of nitrogen oxides on average and a maximum of 1,859 mg/mile
Attorneys say highway driving tests show the average nitrogen oxide emissions are 232 mg/mile and a maximum of 1,615 mg/mile compared to the 70 mg/mile standard. Highway driving on hills shows the nitrogen oxide numbers are 353 mg/mile and 3,240 mg/mile.
The plaintiff also claims testing shows the defeat device is triggered by ambient temperatures above 95 F and below 40-50 F and nitrogen oxide emissions increase by a factor of 10 when above or below these temperatures. Testing also revealed the presence of a defeat device when ascending hills, as the emission control system appears to be significantly diminished after a short period of steady driving on hills.
In addition to accusations of RICO Act violations against FCA and Bosch, Chrysler is accused of committing fraudulent concealment, false advertising and violating consumer rights laws.
The Ram 1500 and Jeep Grand Cherokee EcoDiesel lawsuit was filed in the U.S. District Court for the Northern District of California - Jose Chavez, et al, v. FCA US LLC, Robert Bosch GMBH, and Robert Bosch LLC.
The plaintiff is represented by Hagens Berman.
Fiat Chrysler was sued a few weeks ago over alleged emissions violations, but that lawsuit involves Dodge Ram trucks equipped with Cummins diesel engines that allegedly emit nitrogen oxide emissions up to 14 times above legal limits.
CarComplaints.com has complaints from owners of Jeep Grand Cherokee SUVs and Ram 1500 trucks.