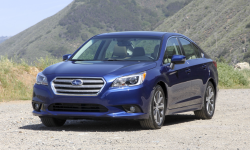 — Subaru is recalling 766 model year 2015 Legacy and Outback vehicles that could be difficult to handle while driving.
Subaru discovered excess moisture in a storage tank of brake fluid that caused a gel-like material to form in the brake systems. The automaker determined the fluid can clog a valve filter in the vehicle dynamics control system.
In certain cases where electronic stability control is activated, the feature may not help to prevent a loss of vehicle control.
Subaru blames the problem on a storage tank that was exposed to the atmosphere during a plant shutdown period from July 4 to July 19, 2015.
The Indiana plant tested for moisture in the fluid when the tank arrived at the facility, but moisture levels were not tested after the plant shutdown period. Subaru says from now on any storage periods will require tests for moisture before the brake fluid is used.
Subaru doesn't know when the recall will begin, but dealers will need to flush and replace the brake fluid and do some work with the anti-lock braking system.
Owners of the recalled 2015 Legacy and Outback vehicles may call Subaru at 800-782-2783 and give them recall number WTC-64.
This is the second recall of Legacy and Outback vehicles announced by Subaru in a week. A May 12 recall of 48,500 model year 2016-2017 Legacy and Outback vehicles was announced because the steering wheels may fail to turn the wheels.