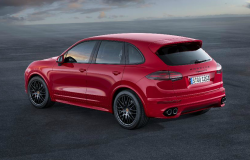 — Volkswagen is recalling more than 800,000 cars and SUVs worldwide for two separate problems, but most of the vehicles are located outside the U.S.
Volkswagen Touareg / Porsche Cayenne
Nearly 47,000 model year 2011-2016 Volkswagen Touareg SUVs are recalled in the U.S., in addition to about 88,000 model year 2011-2016 Porsche Cayenne SUVs. Another 10,000 Cayenne vehicles will need to be repaired in Canada.
Volkswagen says the pivot pin for the brake pedal may be missing a circlip, also known as a c-clip or snap ring. The missing clip can cause the pivot pin to move and the brake pedal to dislodge. From there, a driver will need to find unique methods of applying the brakes without a brake pedal.
VW and Porsche say no accidents or injuries have been reported related to the missing circlips.
Volkswagen and Porsche dealers will inspect the brake pedal assembly and install any missing c-clips, but no recall schedule has been announced.
Owners of the 2011-2016 Cayenne may contact Porsche customer service at 800-767-7243 and give them recall number AG02.
Owners of the 2011-2016 Volkswagen Touareg can contact VW at 800-893-5298 and make reference to recall number 46G4.
Volkswagen e-Golf
VW says about 5,500 model year 2015-2016 e-Golf cars can suddenly shut down while driving. The automaker says the diagnostics for the high-voltage battery management system is too sensitive and can falsely detect an electrical surge. The electric drive motor for the e-Golf will shut down unexpectedly if the system detects an electrical surge.
VW says the recalled cars were produced from May 21, 2014, to March 1, 2016.
Volkswagen customers should have received a recall notice in the mail with directions to have a dealer update the battery management software.
If you own a 2015-2016 VW e-Golf and have questions, contact Volkswagen at 800-893-5298 and ask about recall number 93B4.