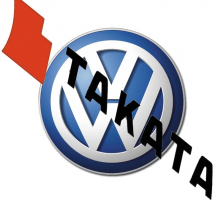 — Volkswagen is recalling about 850,000 VW and Audi vehicles to replace Takata frontal airbag inflators that can explode when the airbags deploy. The recall follows a separate recall of VW and Audi vehicles with Takata seat-mounted airbags that can explode.
The 850,000 recalled vehicles include the following:
2006 Volkswagen Passat
2005-2013 Audi A3
2006-2009 Audi A4 Cabriolet
2010-2014 Volkswagen Golf and Jetta SportWagen
2007-2010 Volkswagen Passat
2012-2014 Volkswagen Passat Sedan and Eos
2009-2014 Volkswagen CC
2009-2012 Audi Q5
2010-2011 Audi A5 Cabriolet
About 680,000 of the recalled vehicles are made by Volkswagen and 170,000 belong to Audi. The recall is the result of a recent announcement of an additional 5 million Takata airbag inflators in danger of exploding.
Volkswagen says the driver's side frontal airbags use "non-desiccated" SDI and PSDI-5 Takata inflators. Non-desiccated simply means they aren't protected from moisture. That moisture is at the heart of the exploding airbags, as it's believed moisture affects the explosive chemical used to deploy the airbags.
The chemical, ammonium nitrate, is tucked inside the metal inflators which are inside the airbags. The chemical is meant to provide a small quick explosion to deploy the airbags immediately after an impact, but the chemical can become unstable due to heat and humidity.
Blamed on at least 10 deaths and over 100 injuries, the metal inflator explodes with overwhelming force and turns into a live grenade, sending shrapnel into car occupants.
Volkswagen says no SDI or PSDI-5 Takata inflators have exploded in Volkswagen or Audi vehicles, but those same type of inflators have exploded in vehicles from other automakers.
While VW and Audi owners wait for replacement airbag inflators, Volkswagen says the recall might not be necessary. The automaker told the National Highway Traffic Safety Administration (NHTSA) the airbags came from a factory that hasn't had problems with airbags.
VW told safety regulators tests should be performed on the inflators installed in the VW and Audi cars before a recall is ordered. However, NHTSA wasn't happy with that proposal and rejected it, telling VW doing more tests without a recall was out of the question.
Volkswagen doesn't know when the 850,000 vehicles will be recalled because the automaker doesn't have the needed replacement parts.
Volkswagen and Audi owners with questions should call VW at 800-893-5298 or Audi at 800-253-2834.