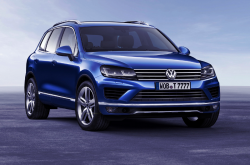 — Volkswagen is recalling 825 Touareg Hybrid SUVs with batteries that may catch on fire due to water intrusion. An electrical short of the high voltage battery can occur when water collects in the hybrid battery tray.
In 2014, Volkswagen received two reports outside the U.S. of overheating hybrid batteries. Both failures were attributed to the way the owners used the SUVs, including one case where rain entered due to the rear hatch left open.
In April 2015, engineers introduced a design change for the 2016 Touareg Hybrid by adding a drain valve in the rear hatch area. However, more battery problems kept occurring on 2015 models and owners kept complaining.
VW determined water could enter without the rear hatch open because the sunroof drains and rear lid seals weren't assembled correctly.
Engineers say the hybrid battery tray is located in the rear hatch area and any water entering the area will stay out of sight below the rear hatch floor. Owners can't easily see the water and might only learn of the problem when the electrical drive system shuts down.
In addition, a warning will be received concerning the hybrid drive system. In the worst case, the electrical short could cause a fire.
The recalled 2011-2015 Touareg Hybrid SUVs were built March 20, 2010, to April 11, 2015.
Volkswagen says the Touareg Hybrid recall will begin by the end of February 2016. Dealers will install a fitted drain valve to allow water to drain and stay away from the hybrid battery.
Touareg Hybrid owners with questions should contact VW at 800-893-5298 and use recall number 53B8.
CarComplaints.com has complaints about the Volkswagen Touareg Hybrid, Volkswagen Touareg and other Volkswagen vehicles.