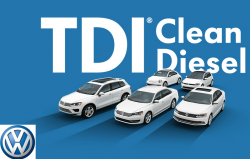 — Volkswagen's emissions cheating nightmare is no closer to an end as about 475,000 2-liter diesel owners and lessees in the U.S. scramble for money, and European governments may finally decide to take action against the automaker.
According to lawyers close to the U.S. settlement, more than half the owners who have registered as part of the "clean diesel" settlement agreement say they want VW to buy back the diesel vehicles, as opposed to getting the cars fixed.
As part of VW's agreement, an affected 2-liter owner can receive cash for their car and get rid of the thing, or receive free money in addition to keeping the car and getting it repaired.
The buyback will be more expensive to the automaker, but no fix has been approved by the court or the government and it looks like it doesn't matter because owners want the buyback instead of waiting for a fix.
A few hundred owners have opted out of the settlement agreement, leaving those owners free to do what they want, including the option of taking further legal action against Volkswagen.
Nevertheless, VW "clean diesel" owners don't have to be in a rush as they have until September 2018 to decide about the buyback offer.
VW May Finally Answer to European Owners
The European Union Commission has determined Volkswagen violated consumer protection laws in as many as 20 member states, a decision that could throw VW back into the stone age.
While Volkswagen has agreed to pay about 475,000 U.S. diesel owners $10 billion to buy back or fix the cars, and another $5 billion toward answering to the government, European consumers have been left holding their empty hands outward.
The $10 billion for U.S. owners includes only 475,000 owners, but European owners number about 8.5 million, leaving Volkswagen to admit any similar compensation overseas will bankrupt the automaker.
Government regulators overseas have allowed VW to get by without fines, huge legal settlements or compensation to owners, but the EU Commission decision may change all that in a big way. German media say the automaker is now looking at financial claims that could wipe out the automaker as the EU Commission for Justice and Consumers says it's time to quit giving VW a free pass.
European authorities now say regulatory action should be taken and enforced, possibly giving EU VW owners some relief from the disaster. However, even giving 8.5 million consumers a small amount of compensation could put Volkswagen on the ropes, even if the amount per consumer is nothing compared to what U.S. owners are receiving.