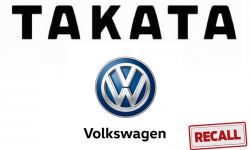 — Volkswagen is recalling more than 33,400 Audi vehicles as part of massive new recalls from Takata to replace passenger frontal airbag inflators. Just like what other automakers are facing concerning Takata airbags, VW says different Zones of the country are affected.
First off are the following vehicles that are recalled if they were originally sold or ever registered in Zone B locations:
2009 Audi A4 Cabriolet
2009 Audi S4 Cabriolet
2009 Audi A6 Avant
2009 Audi A6 Sedan
2009 Audi S6 Sedans
The Zone B locations include:
Arizona, Arkansas, Delaware, the District of Columbia, Illinois, Indiana, Kansas, Kentucky, Maryland, Missouri, Nebraska, Nevada, New Jersey, New Mexico, North Carolina, Ohio, Oklahoma, Pennsylvania, Tennessee, Virginia and West Virginia.
Additionally, unless included in Zone B above, Volkswagen is recalling these vehicles:
2005-2008 Audi A4 Avant
2005-2008 Audi A4 Sedan
2005-2008 Audi A6 Sedan
2005-2008 Audi S4 Avant
2005-2008 Audi S4 Sedan
2007-2008 Audi A4 Cabriolet
2007-2008 Audi RS4 Sedan
2007-2008 Audi S4 Cabriolet
2007-2008 Audi S6
2006-2008 Audi A6 Avant
2008 Audi RS4 Cabriolet
Those vehicles need airbag repairs if the vehicles were originally sold or ever registered in:
Alaska, Colorado, Connecticut, Idaho, Iowa, Maine, Massachusetts, Michigan, Minnesota, Montana, New Hampshire, New York, North Dakota, Oregon, Rhode Island, South Dakota, Utah, Vermont, Washington, Wisconsin and Wyoming.
Audi says owners will see recall notices in February 2017, explaining how Audi dealers will replace the frontal passenger airbag inflators.
If you own one of the recalled vehicles and have questions, please call Audi at 800-253-2834.
Editor's note: Find information on the BMW Takata recall which was announced on the same day.