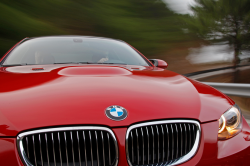 — BMW says nearly 673,000 vehicles will be recalled because the wiring and electrical connectors for the system that controls air flow for the heating and air conditioning systems can overheat.
2006-2011 BMW 323i
2006-2011 BMW 325i
2006-2011 BMW 325xi
2006-2011 BMW 328i
2006-2011 BMW 328xi
2006-2011 BMW 330i
2006-2011 BMW 330xi
2006-2011 BMW 335i
2006-2011 BMW 335xi
2006-2011 BMW M3
2007-2011 BMW 328i xDrive
2007-2011 BMW 335i xDrive
2007-2011 BMW 335is
2009-2011 BMW 335d
The recall involves the blower regulator that controls the motor's fan speed for the air conditioning and heating system. The wiring harness for the blower regulator can suffer problems over time due to the way the wires were crimped.
Corrosion from friction combined with a very high current when the fan speed is high can cause an increase in temperature from electrical resistance, damaging the wiring and causing a short-circuit.
BMW says it first received a report 10 years ago about a 2006 BMW 3 Series sedan that had heat-related damage to the heating and cooling system. Engineers investigated but could not find the root cause of the problem, so the automaker monitored the field for additional reports.
By 2011, more reports were received and this time engineers found a degradation of the connection between the blower regulator wiring harness and the blower regulator.
No injuries were reported between 2007 and 2014, but in 2015, BMW was made aware of three incidents involving two model year 2006 BMW 3 Series sedans and one 2008 BMW 3 Series sedan in which there were allegations of injuries.
Then a report came in about a 2011 BMW 3 Series and the inspection found heat damage to the heating and cooling system.
A smell of burning plastic will likely be noticed because heat can melt the plastic that surrounds the blower regulator, leading to the potential of a fire. A driver may also notice the air conditioner or heater may stop working in addition to a burning odor or possibly smoke in the cabin.
BMW dealers replace the wiring and electrical connectors once the recall begins December 18, 2017, but owners with questions may call BMW at 800-525-7417.