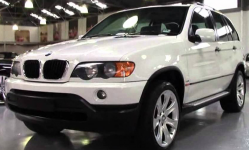 — BMW is recalling more than 230,000 vehicles to replace driver-side Takata airbag modules to make sure the airbags don't explode during a crash. The recalled vehicles include the following:
2000-2002 BMW 320i
2000-2002 BMW 323i
2000-2002 BMW 325i
2000-2002 BMW 325xi
2000-2002 BMW 330i
2000-2002 BMW 330xi
2000-2002 BMW 323Ci
2000-2002 BMW 325Ci
2000-2002 BMW 330Ci
2000-2002 BMW M3
2000-2002 BMW 323iT
2000-2002 BMW 325iT
2000-2002 BMW 325xiT
2001-2002 BMW 525i
2001-2002 BMW 530i
2001-2002 BMW 540i
2001-2002 BMW M5
2001-2002 BMW 525iT
2001-2002 BMW 540iT
2001-2003 BMW X5 3.0i
2001-2003 BMW X5 4.4i
2001-2003 BMW X5 4.6is
This recall is different than the majority of Takata airbag recalls because the original BMW airbags weren't made by Takata. BMW says the vehicles were originally equipped with airbags made by a German company called Petri AG. However, Takata bought that company about 16 years ago, so any airbags that have been replaced in the vehicles have been replaced with Takata PSDI-4 airbag inflators.
BMW has recalled some of these same cars in the past, but those recalls were ordered to fix passenger-side Takata airbag inflators.
BMW learned in November 2016 about a customer asking questions about the airbag inflators installed in a 2000 3 Series sedan that was originally equipped with a Petri P-NADI inflator.
The Petri inflators do not contain ammonium nitrate, the chemical responsible for hundreds of exploding Takata airbags. But with Takata owning the company since 2000, the owner who asked questions discovered their sedan was equipped with a defective Takata airbag inflator.
BMW analyzed replacement and spare parts and going by sales records, about 14,600 Takata airbag parts were shipped to the U.S. between 2002-2015, but it wasn't possible to determine specific vehicles equipped with the airbag inflators.
With this revelation, it's possible other automakers that years ago used Petri airbags may also have defective replacement inflators made by Takata.
The automaker says it isn't aware of any injuries or deaths related to the driver-side airbag inflators.
The recall is expected to begin March 15, 2017, when BMW dealers will notify owners about having the driver-side airbag modules replaced.
If you own a recalled vehicle and have questions, call BMW at 800-525-7417.