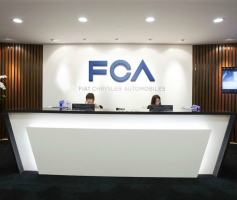 — Ram 1500 trucks and Jeep Grand Cherokee SUVs allegedly have nitrogen oxide emissions up to 20 times the legal limits when the vehicles are tested on the roads, according to researchers from West Virginia University's Center for Alternative Fuels, Engines and Emissions (CAFEE).
The Ram 1500 trucks and Jeep Grand Cherokee SUVs are the same vehicles targeted by a lawsuit filed against Chrysler by the U.S. Department of Justice.
In addition, those same vehicles were included in violation notices sent to FCA in January 2017 by the EPA and the California Air Resources Board (CARB) that allege Chrysler installed and concealed "engine management software."
As for CAFEE researchers, they are the same people who found illegal Volkswagen emissions that led VW to recall millions of vehicles and pay billions in fines.
In a statement, FCA says the testing appears to have been commissioned by a plaintiffs' law firm for purposes of litigation and the automaker wants to know what testing methods were used to reach the conclusions.
FCA says it wants to "determine which on-road test results could conceivably be compared with results from U.S. Environmental Protection Agency (EPA) laboratory procedures. CAFEE has been unwilling to discuss the report."
The automaker says the CAFEE report implies it is appropriate to compare on-road test results with EPA tests conducted under lab conditions.
In addition, Chrysler says the West Virginia tests were conducted at average speeds more than 50 percent greater than those in the EPA test procedures and with 600-700 lbs. more payload than used in EPA test procedures.
The automaker also says researchers tested the Ram and Jeep vehicles under road conditions that are not required by the EPA.
In the end, FCA says the CAFEE report is meaningless because there is no regulatory protocol for conducting on-road emissions testing.
CarComplaints.com has complaints about Ram 1500 trucks and Jeep Grand Cherokee SUVs.