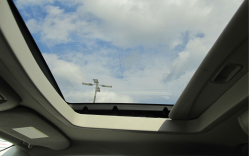 — A Chrysler leaking sunroof lawsuit is still trying to reach class-action certification about three years after it was filed.
The leaking sunroof lawsuit alleges water damages the interiors of 2009-present Jeep Patriot, Jeep Liberty, Jeep Compass, Jeep Commander, Jeep Cherokee, Jeep Grand Cherokee, Chrysler Town and Country and Chrysler 300 vehicles.
Filed in 2014 by lead plaintiff David Cox, the lawsuit says his 2010 Jeep Patriot sunroof started leaking after 10,000 miles and the invading water trashed the radio. Cox says a dealer replaced the radio and cleaned the sunroof drain tubes under warranty. However, the plaintiff says the sunroof kept leaking and not only damaged the new radio but also the electrical parts of the sunroof.
A return trip to the dealership didn't go as well as the first trip because this time Cox was told he would have to pay for repairs because it was a maintenance problem. The Jeep wasn't repaired and the leaking water started pouring from the dome light, causing a moldy smell and more electrical problems.
While Cox says he was told the sunroof leaks were a maintenance problem, the lawsuit alleges Chrysler never said a word to owners about needing to perform routine maintenance on the sunroof drain tubes.
According to the plaintiffs, Chrysler sometimes told owners they misused the vehicles and caused the leaks. In addition, the lawsuit alleges even with vehicles that were under warranty, dealers still denied to cover repairs costs by blaming owners for not maintaining the sunroof drains.
Affected Chrysler and Jeep owners claim there is no way they would have paid as much as they did for the vehicles if the automaker would have admitted the sunroofs were defective. Now, according to the plaintiffs, they are stuck with vehicles with decreased resale value because of the water leaks.
Some claims of the leaking sunroof lawsuit have been dismissed by the judge, including certain warranty and fraud claims, but the court let continue claims of violating implied warranty and consumer protection laws.
The lawsuit continues because although it has been going on since 2014, the judge says the plaintiffs have not been provided enough time to "engage in merits-based discovery" regarding claims against FCA.
The Chrysler leaking sunroof lawsuit was filed in the United States District Court for the District of New Jersey - Cox et al v. Chrysler Group, LLC.
The plaintiffs are represented by Keefe Bartels, Poulos LoPiccolo PC, and Peter C. Lucas, LLC.