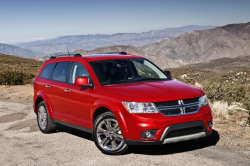 — Fiat Chrysler (FCA US) is recalling more than 363,000 model year 2011-2015 Dodge Journey SUVs because the driver-side frontal airbags might suddenly deploy without need of a crash.
Chrysler says the problem goes back to 2014 when an airbag deployed for no good reason in a 2012 Dodge Grand Caravan. Engineers examined the returned parts and initially believed the steering column clockspring conductor tape had failed.
In 2015, reports came in about unintentional airbag deployments in Dodge Journey SUVs. Engineers determined the root cause was a shorted steering wheel wire harness from contact against the back edge of the metal horn plate.
FCA started inspections on corporate Dodge Journeys and found three with wiring problems inside the steering wheels, something that caused the automaker to begin an official engineering study concerning the steering wheel wiring.
After finding more instances of airbag deployments and confirming the wires were rubbing through due to shorted clocksprings, Chrysler decided to order a recall.
Chrysler says no crashes have been caused by the sudden airbag deployments, but six injuries are linked to the problem.
The Dodge Journey recall should begin August 21, 2017. Dodge dealers will install protective covers and inspect the airbag wiring inside the steering wheels and replace the wiring if needed.
Affected owners of 2011-2015 Dodge Journey SUVs may contact the automaker at 800-853-1403 and use Chrysler's number for this recall, T47.
The aforementioned Grand Caravan minivans that first experienced unintended airbag deployments were the subject of Chrysler recalling 209,000 of those vehicles in June.