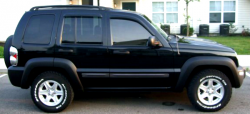 — A Jeep Liberty gas tank lawsuit has been dismissed by a Missouri judge after the plaintiff claimed Fiat Chrysler concealed defects with the location of the gas tanks, causing a loss of vehicle value.
The plaintiff says Chrysler lied about the gas tanks in Jeep vehicles, only to later order a recall of the SUVs.
The plaintiff says he bought his 2003 Jeep Liberty in 2013 believing the SUV was safe, until Chrysler recalled the Jeeps to help protect the gas tanks from rear impacts that could cause the Jeeps to go up in flames.
In 2013, the National Highway Traffic Safety Administration requested that FCA recall Jeep Liberty and Grand Cherokee SUVs at risk of fires due to the location of the gas tanks, but Chrysler fought the request and said the vehicles were safe.
The case hinged on press releases from June 2013 when Chrysler said the Jeeps were not defective and that federal safety regulators were wanting recalls because those regulators didn't have the proper information.
But it wasn't long after those statements that Fiat Chrysler announced a recall of 1.5 million Jeeps to install trailer hitches to the rear of the SUVs even though the government wanted 2.7 million Jeeps recalled.
Chrysler had already won dismissal of the proposed class-action lawsuit in 2015, but the plaintiff amended the complaint and told the judge the automaker completely failed by placing the plastic gas tanks behind the rear axles of the Jeeps. According to the lawsuit, Jeep owners have lost money because of the recall and because of the location of the gas tanks.
The judge ruled there was no evidence that two press releases Chrysler posted in 2013 were ever sent to the used car dealership where the plaintiff bought his Jeep Liberty. Those press releases talked about the safety of the SUVs and were posted to Chrysler's website after the government requested the automaker recall the Jeeps.
The plaintiff claims the dealership should have known they were selling a defective Jeep, but the judge disagreed and said that Fiat Chrysler had no connection with the sale of the Jeep Liberty.
In addition, just because the plaintiff eventually saw the press releases doesn't mean the dealership that sold the Jeep saw the press releases before selling the Jeep.
The Jeep gas tank lawsuit was filed in the U.S. District Court Western District of Missouri - Faltermeier v. FCA US LLC.
Faltermeier is represented by Shank & Moore LLC.