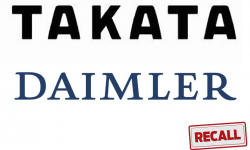 — Daimler Vans USA is once again caught up in the Takata recall mess that has dominated the lives of too many people.
Daimler says 11,279 vans are recalled to replace passenger frontal airbag modules that hold dangerous metal inflators that can explode.
Takata recently expanded the recalls of millions of airbag inflators by adding another 5.7 million to the list, and this Daimler Vans recall is part of that expansion.
As with Takata recalls of the past, the Daimler recall is broken down by "Zones" based on models and where those models are located.
The 2012 Freightliner 2500, 3500 Sprinter and Mercedes-Benz 2500 and 3500 Sprinter vans are recalled if originally sold or ever registered in Zone A:
Alabama, California, Florida, Georgia, Hawaii, Louisiana, Mississippi, South Carolina, Texas, Puerto Rico, American Samoa, Guam, the Northern Mariana Islands (Saipan) and the U.S. Virgin Islands.
In addition, the 2009 Dodge Sprinter 2500 and 3500 and Freightliner 2500 and 3500 Sprinter vans will be repaired if originally sold or ever registered in Zone B locations:
Arizona, Arkansas, Delaware, District of Columbia, Illinois, Indiana, Kansas, Kentucky, Maryland, Missouri, Nebraska, Nevada, New Jersey, New Mexico, North Carolina, Ohio, Oklahoma, Pennsylvania, Tennessee, Virginia and West Virginia.
Dealerships will replace the entire frontal passenger airbag modules, but right now there are no replacement parts. Daimler will send letters to owners in February 2017 and owners will receive second notices when airbag parts are available.
If you own one of the recalled vans and have questions about the Takata recall, contact the automaker at 877-762-8267.