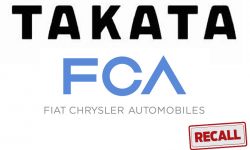 — Fiat Chrysler (FCA US) is recalling more than 100,700 older vehicles to replace Takata airbag inflators at risk of causing injury or death, with some vehicles needing driver-side inflators and others requiring new passenger-side inflators.
The recall includes the 2005-2009 Dodge Ram 2500, 2009 Chrysler Aspen and Dodge Durango and the 2010 Dodge Ram 3500 chassis cab, with 86,403 of those vehicles located in the U.S.
The Takata airbags are at risk of exploding due to heat, humidity and age affecting the ammonium nitrate, the chemical used as a propellant to deploy the airbags. The chemical is stored inside a metal component called the inflator, and it's the inflator that ruptures and becomes a grenade, sending shrapnel through occupants.
Chrysler says it's using driver-side replacement inflators from a company other than Takata to ensure the fix is permanent, and those inflators are available and ready to be installed.
Vehicles needing driver-side airbag inflators include 2009 Chrysler Aspen and Dodge Durango SUVs and 2010 Dodge Ram 3500 chassis cab trucks. Owners are advised to get their vehicles to dealerships as soon as the recall begins on January 11.
Model year 2005-2009 Dodge Ram 2500 trucks need the passenger-side airbag inflators replaced, but those inflators won't be available until April or May 2017.
In addition to the 86,403 recalled vehicles in the U.S., about 7,600 are recalled in Canada, 1,300 in Mexico and another 5,300 vehicles are recalled outside North America.
Affected owners who have questions should call FCA at 800-853-1403.
CarComplaints.com has complaints about the vehicles named in the Takata airbag recall: