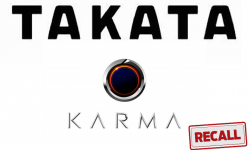 — A recent recall of 5.7 million Takata airbag inflators has hit just about every automaker out there, including Karma Automotive that is recalling 811 model year 2012 Fisker Karma vehicles originally sold or ever registered in these states:
Alabama, California, Florida, Georgia, Hawaii, Louisiana, Mississippi, South Carolina and Texas.
Karma says the passenger-side frontal airbag inflators are the problem as those inflators can explode during a simple airbag deployment. The chemical used to deploy the airbags, ammonium nitrate, can become unstable due to age, heat and especially moisture from humidity.
What should be a small quick explosion to deploy the passenger airbag during a crash becomes more like a live grenade exploding inside the vehicle.
It's important for owners to get their cars fixed as quickly as possible, but for now there will be a wait for the recall to start. Karma says replacement airbag inflators aren't yet available and the automaker doesn't know when the recall will begin.
Owners will receive two notices, one letting them know about the recall and then second notices letting owners know parts are finally available.
If you own a recalled 2012 Fisker Karma and have questions, call Karma at 855-288-6109 and refer to recall number 5.84.17.001.01.