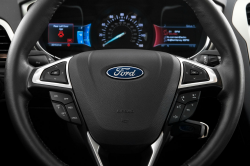 — A Ford Focus and Fusion electronic power assisted steering (EPAS) lawsuit won't be certified as a class-action after a judge ruled the plaintiffs can't prove all owners experienced harm from the alleged defect.
The Ford EPAS lawsuit was filed as a proposed class-action in 2014 after owners complained about their cars suddenly losing power steering while driving. The 2010-2014 Ford Fusion and 2012-2014 Ford Focus cars allegedly have defects in the sensors and steering gear assemblies that cause failures of the EPAS systems.
The plaintiffs say Ford has known about the problems for years, problems that can cost owners $2,000 for repairs, especially when the steering problems typically pop up shortly after the warranties expire.
Ford allegedly changed from a hydraulic system to an electromechanical system to increase fuel economy by taking pressure off the engine, something that caused the EPAS problems.
Ford has ordered recalls for steering problems for the Focus and Fusion, specifically a May 2015 recall of 2011-2012 Ford Fusion cars after the automaker said an electrical connection in the steering gear could cause a loss of power steering.
While battling for class-action certification, the plaintiffs received bad news in 2015 when U.S. District Court Judge Lucy H. Koh dismissed the suit after saying it was "unduly burdensome," but she gave the plaintiffs 30 days to amend the complaint. After the complaint was amended, Ford filed another motion to dismiss the power steering lawsuit, but the judge denied Ford's motion.
The automaker asked the judge to deny class certification because if power steering defects do exist, the plaintiffs can't claim a common defect because the Focus and Fusion cars were built at different times. In addition, Ford says many plaintiffs shouldn't be included in the lawsuit because they purchased the cars used or for business purposes.
In denying class certification, the judge ruled certain claims contained in the lawsuit are without merit because Ford had ordered a recall to fix power steering problems, leaving injunctive relief unnecessary and baseless.
The judge also ruled class-action certification is denied because members of the lawsuit can't prove they all were told the same things about how the EPAS systems worked.
Judge Koh also ruled an expert used by the plaintiffs didn't present evidence that corresponded to the theory of liability in the lawsuit and didn't use a proper model for figuring damages.
The Ford power steering lawsuit was filed in the U.S. District for the Northern District of California - William Philips et al v. Ford Motor Company.
The plaintiffs are represented by Baron & Budd PC, Grant & Eisenhofer PA, and Spilman Thomas & Battle PLLC.
Read what owners say about the Ford Fusion and Ford Focus.