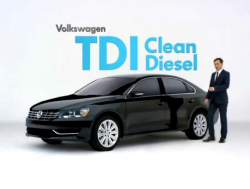 — Former owners and lessees of Audi and Volkswagen "clean diesel" vehicles have filed a proposed class-action lawsuit alleging they weren't included in the settlements over illegal emissions in 2-liter and 3-liter diesel vehicles.
Most U.S. consumer litigation has been taken care of in federal multidistrict litigation with three resulting consumer class-action settlements.
The first settlement involved 2-liter models and was given final approval on October 25, 2016. The second settlement involved 3-liter models and was given final approval on May 17, 2017. The third settlement resolved all claims for all affected diesel vehicles against parts supplier Robert Bosch and was given final approval on May 17, 2017.
According to the new lawsuit, the settlements did not compensate consumers who sold or leased the illegal vehicles but got rid of them before September 18, 2015.
The plaintiffs say they might have not experienced any lost resale values, but they still suffered the same primary harm as those compensated by the settlements because they never received the clean emissions performance Volkswagen promised.
Some of those owners and lessees had the illegal diesel vehicles for as long as six years, but they say they got scammed just as everyone else.
All three consumer settlements allegedly excluded tens of thousands of owners who suffered harm when they sold their cars or terminated the leases.
The consumers allegedly left out of the settlements owned or leased the following vehicles:
2.0-Liter Diesel Vehicles
2009-2015 Volkswagen Jetta
2009-2014 Volkswagen Jetta SportWagen
2012-2015 Volkswagen Beetle
2012-2015 Volkswagen Beetle Convertible
2010-2015 Audi A3
2010-2015 Volkswagen Golf
2015 Volkswagen Golf SportWagen
2012-2015 Volkswagen Passat
3.0-Liter Diesel Vehicles
2009-2016 Volkswagen Touareg
2014-2016 Audi A6 Quattro
2014-2016 Audi A7 Quattro
2014-2016 Audi A8
2014-2016 Audi A8L
2014-2016 Audi Q5
2009-2016 Audi Q7
Former owners who purchased (not leased) the new vehicles were allegedly harmed even more because those consumers paid premium prices to have a brand new vehicle.
The lawsuit says this new vehicle premium is a well-known fact in the auto industry and that Kelley Blue Book values indicate new cars typically lose about 20 percent of their value the moment they're driven off the lot. The plaintiffs say this new vehicle premium cannot be recouped when the vehicle is sold or traded.
Through the sale and lease of vehicles that did not comply with emissions standards, Volkswagen allegedly unjustly and fraudulently made hundreds of millions of dollars from these consumers.
Once again, the lawsuit includes all persons and entities who owned or leased any of the affected vehicles and who "no longer owned, held an active lease for, or otherwise had a legal interest" in the vehicles on September 18, 2015.
The Audi and Volkswagen emissions lawsuit was filed in the U.S. District Court for the Northern District of California, San Francisco Division - Nemet et al v. Volkswagen Group of America, Inc. et al.
The plaintiffs are represented by Hagens Berman Sobol Shapiro LLP, and the Paynter Law Firm, PLLC.