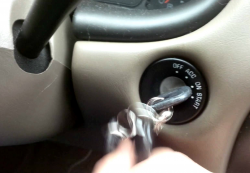 — General Motors ignition switch court cases continue to keep GM attorneys busy as the automaker says it will settle lawsuits concerning hundreds of plaintiffs and state court claims, although details of the aggregate settlement will remain confidential.
The defective ignition switches are linked to nearly 300 injuries and at least 124 deaths.
The settlement terms will likely take time to hash out, but attorneys on both sides are committed to the final agreement. The claims were something GM didn't think it would be forced to face, until the automaker learned its 2009 bankruptcy didn't shield it from the claims.
GM has always argued the bankruptcy terms protected the "New GM" from actions of "Old GM." But an appeals court came down in favor of plaintiffs who wanted to sue the automaker, and the U.S. Supreme Court refused to hear GM's arguments.
The plaintiffs said post-bankrupt General Motors should be held liable for actions taken prior to the 2009 bankruptcy concerning the ignition switches. Court documents revealed customers were complaining about the faulty switches since 2002, something that played heavily on the decision by the appeals court.
Separately, GM chalked up a win in the ignition switch trial of Dennis Ward, the owner of a 2009 Chevrolet HHR. Ward claimed a bumpy road caused the ignition switch to move out of the "run" position, leaving him without power brakes and steering.
But the jury handed GM the win after attorneys showed Ward never complained about the ignition switch to police and even told them the crash was his fault. In addition, Ward kept driving the vehicle, including using it during drag racing.
Along with the hundreds of court cases, the ignition switch fiasco also landed GM into a load of trouble with safety regulators.
One consequence for GM was a three-year consent order with NHTSA that was agreed upon in May 2014. The order demanded constant contact between GM and the government concerning recalls and other potential safety problems.
The forced order has now turned into what General Motors calls a "voluntary model for continuing dialogue on important vehicle safety issues."
The company says it has created a good relationship with NHTSA and wants to continue monthly meetings with government safety officials. Those meetings would consist of talking about safety recalls, investigations and other matters to advance overall auto safety.
GM has already paid out $2 billion for spending years concealing its deadly ignition switches, including shelling out $575 million to settle 1,385 death and injury claims and a shareholder suit, and another $595 million to resolve claims for 124 deaths and 275 injuries.
The automaker also paid $900 million to settle a government criminal probe, but unlike Volkswagen's executives, no GM execs were charged.