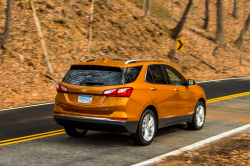 — General Motors is recalling nearly 3,000 SUVs that can lose propulsion because the front intermediate driveshafts can break and separate while driving.
In addition to losing forward movement while driving, the SUV could roll away if the driveshaft assembly separates while parked on a grade without the parking brake engaged.
Included in the GM recall are 2018 Chevrolet Equinox, GMC Terrain and 2017-2018 GMC Acadia SUVs.
In July 2017, an assembly plant discovered a separated front right intermediate driveshaft assembly during manufacturing of a 2018 Terrain SUV. It was confirmed the driveshaft had passed the supplier's ultrasonic scans that looks for cracks, but then three additional fractured shafts were found at the assembly plant.
All those driveshafts had also passed tests conducted by the supplier.
GM says the driveshaft supplier's quality check for metal hardening was performed with an ultrasonic scanning machine that was not calibrated properly. That little fault can cause cracks to be missed during quality control checks, cracks the supplier says occurred during the quenching process.
The supplier, Nexteer, reviewed its calibration records and found a time period when the ultrasonic scanning machine was determined to have been incorrectly calibrated. This caused GM to quarantine vehicles at four assembly plants to look for more vehicles built with defective driveshafts.
The automaker also opened an internal investigation, then decided to order the recall.
General Motors doesn't know when the driveshaft recall will begin. Dealers are expected to replace the right front intermediate drive shaft assemblies.
Owners of 2018 Chevrolet Equinox, GMC Terrain or 2017-2018 GMC Acadia SUVs may contact the automaker at 800-222-1020. GM's number for this recall is 17329.