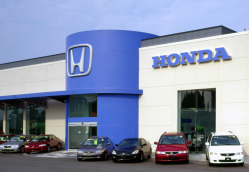 — No automaker has been affected by Takata airbags more than Honda, and that trend continues as Honda says it will pay about $605 million to settle lawsuits over the defective airbags.
The multidistrict class-action litigation involves economic loss claims only, not claims involving deaths or injuries in Honda vehicles. Honda has been sued multiple times for deaths and injuries caused by Takata airbags in Honda vehicles in the U.S. and other parts of the world.
Because most of the deaths have occurred in Honda cars, the automaker has spent millions of dollars to convince owners to get their vehicles repaired, yet federal regulators say customers have ignored recall notices. Honda has went to the extreme measure of going door-to-door to find customers and convince them to get their cars repaired.
Out of 42 million vehicles recalled in the U.S. to replace Takata airbag inflators, about 11.4 million Acura and Honda vehicles have been recalled. However, those 11.4 million cars are equipped with about 17.8 million recalled airbag inflators because some vehicles have both driver and passenger Takata airbags.
The multidistrict settlement will mandate the automaker create a $200 million fund to increase its recall efforts with a focus on reaching owners who have not responded to airbag recall notices.
It seems Honda will have to spend a fortune to hold the hands of its customers who ignore safety defects that could kill them or their family members, all to convince those owners to use common sense.
The settlement money will also be used for Honda to do more to reach owners who haven't been located since the recalls started in an attempt to get the cars repaired. Honda will also make sure owners know that plenty of replacement airbag inflators are available and ready to go.
In addition, the settlement will create a fund to reimburse owners for money they spent to get their cars repaired for free.
The agreement is not only for Acura and Honda vehicles already recalled in the U.S., but also for any future recalled vehicles to replace Takata inflators.
The following Acura and Honda vehicles have been recalled:
2003 Acura CL
2002-2003 Acura TL
2013-2016 Acura ILX
2003-2006 Acura MDX
2007-2016 Acura RDX
2005-2012 Acura RL
2009-2012 Acura TSX
2009-2014 Acura TL
2010-2013 Acura ZDX
2001-2012 Honda Accord
2010-2012 Honda Accord Crosstour
2001-2011 Honda Civic
2002-2011 Honda CR-V
2011-2015 Honda CR-Z
2003-2011 Honda Element
2010-2014 Honda FCX Clarity
2007-2014 Honda Fit
2010-2014 Honda Insight
2002-2004 Honda Odyssey
2003-2012 Honda Pilot
2006-2014 Honda Ridgeline
The Honda settlement follows settlement agreements reached with other automakers impacted by Takata's airbag inflators. Nissan decided to settle cases for about $98 million, and BMW, Mazda, Subaru and Toyota settled for more than $550 million.
To check if your Acura or Honda vehicle has been recalled due to Takata airbags, visit www.recalls.honda.com or www.recalls.acura.com.