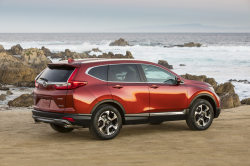 — Honda is recalling about 24,000 new CR-V SUVs because gas could leak from the fuel pipes and start fires.
Honda says no reports of fires have been received, but the fuel feed pipes will be replaced to make sure the gas stays in the SUVs.
Honda didn't say much about the recall and the National Highway Traffic Safety Administration (NHTSA) hasn't announced the recall, but the automaker did say a supplier made mistakes with the ends of the fuel feed pipes.
The end form of the pipe is needed to secure the connection to the fuel feed hose under the center of the CR-V. If the end form was not manufactured correctly, the fuel pipe and the fuel hose may not be completely connected or may disconnect once the fuel lines become pressurized, resulting in a fuel leak.
Leaking gas in the presence of an ignition source will cause nothing but trouble, so 2017 CR-V owners should be aware for the smell of gasoline.
In addition to the fire risk, fuel leaking out while the CR-V is moving could cause the SUV to run out of gas, stalling the engine while driving.
Owners of 2017 Honda CR-Vs should watch for recall notices toward the end of August, but with any questions, please call the automaker at 888-234-2138.
CarComplaints.com will update this page when NHTSA announces details about the 2017 Honda CR-V fuel feed pipe recall.