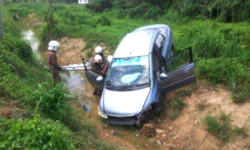 — A Takata/Honda lawsuit alleges Dr. Nida Fatin Binti Mat Asis of Malaysia was killed by an exploding Takata airbag that sent the metal airbag inflator through her mouth and into her skull.
Nida's husband, Dr. Abdullah Shamshir Bin Abdul Mokti, filed the wrongful death lawsuit that alleges the couple never received a recall notice on the 2006 Honda City.
Nida, 29, was killed in the April 16, 2016, crash while driving the Honda City that left the road, struck a ditch and hit a telephone pole.
At the time of the crash, Nida was unimpaired, wearing her seat belt and driving within the speed limit. The crash caused the Takata airbag inflator to explode, sending a 2.6 centimeters (slightly larger than 1 inch) in diameter and 2 centimeters in length piece of metal through her jaw.
The inflator impact was so severe that it fractured her palate, nasal cavity, cranial vault, shattered her teeth and the metal lodged in her skull. Although her husband, also a physician, was in the car, there was nothing he could do to help his wife.
According to the lawsuit, the Honda City had not been recalled to replace the driver-side frontal Takata airbag system and Nida nor her husband had any idea the airbag was dangerous.
The plaintiff also says Honda and Takata knew about the airbag defects at least 13 years ago but did nothing for years. The suit references a 2004 incident where a Takata airbag in a Honda Accord exploded and killed the driver, but Honda and Takata allegedly wrote it off as an anomaly and didn't order a recall or investigate the matter.
Malaysian Honda owners claim Honda has been slow to provide replacement parts and hasn't done enough to track down non-original car owners.
Consumer groups in Malaysia complain safety laws aren't strict enough, something that has contributed to the Takata-related deaths. Safety advocates say the government doesn't keep a database of recalls for owners to check their cars and recall notices aren't issued as public notices.
Compare that to the U.S. where the National Highway Traffic Safety Administration (NHTSA) keeps a public record of recalls and investigations, and owners have access to a searchable database of safety actions.
Honda owners have also complained that some recall notices didn't sound urgent as the wording on one Takata airbag recall notice simply said it was an "invitation for product update" and only later did airbag recall notices say the recall was "urgent."
The Takata/Honda wrongful death lawsuit was filed in the U.S. District Court of Michigan Southern Division. - Dr. Abdullah Shamshir Bin Abdul Mokti, for the Estate of Nida Fatin Binti Mat Asis vs. Takata Corporation, TK Holdings Inc., , Honda Motor Co., Ltd., Honda R & D Co., Ltd., American Honda Motor Co., Inc., and Honda of America Mfg., Inc.